Rugby
Rugby is the core boys sport of the Michaelmas term, with 13 teams (ranging from the U14Cs to the 1st XV) playing a very strong rugby fixture card throughout the South East. All boys are given the chance to represent the College. There is an open choice for rugby in the sixth form, and, typically 80 or more boys opt for rugby. We also support those who wish to play rugby at the highest level.
While we have a very strong tradition, our success is not measured by the number of wins we claim at the end of term. Our focus is knowing that players have done their very best and have enjoyed the journey.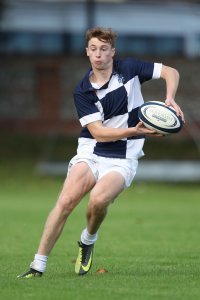 Rugby 7s
We run a comprehensive 7s programme in the Lent term. We compete in a number of 7s tournaments around the South East before playing in the Surrey 7s and the National Rosslyn Park 7s.
Coaching
We are fortunate to have 25 rugby coaches at the College, all of whom have RFU coaching qualifications ranging from levels 1 to 4. Three are currently involved in coaching Harlequins School of Rugby and county rugby.
Olly Torri  College Director of rugby. Level three and Harlequins SOR/EPDG coach and former South East England coach
Tim Holgate  College 1st XV coach at the College. Level two and ex-professional
Jack Roberts  External Harlequins coach. Works with the College C teams
Richard Siggs Harlequins DPP head coach. Coaches the College scrums at all levels.
Alongside coaching, our player welfare programme is of the highest priority. We have physio provision twice a week during the season (and weekly in Lent and summer terms) and at home grounds every Saturday. We also have two paramedics, a rapid-response vehicle and staff who help deliver support to all our pitches.

Recent success
Theo Bevacqua secured his first international cap for Wales U18s and the team claimed victory over France. He was also selected for the Wales U18 squad against South Africa (2019)
1st VII reach semi-final groups in Rosslyn Park 7s (2017), quarter-finals (2016)
Mike Gatehouse Harlequins U18s (2017)
Hugh Turnbull and Tom Wane U18 England Counties (2017)
Theo Bevacqua, Reubin Hart, Henry Turnbull Harlequins Elite Development Programme (2018)
Spike Gleave, Kieran McGreevy and Joshua Veitch Harlequins U14
Regan Law and Jack Soltermann Harlequins U15.
A large number of boys play for Sussex Rugby at all age groups.
Alumni
Will Green (Gonville 1992) England, Wasps, Leinster
Seb Nagle-Taylor (Gonville 2012) England 7s, Jersey Reds
Piers O'Conor (Gonville 2014) Wasps, Ealing Trailfinders, Ireland U19
Hugo Southwell (Wargrave 1998) Scotland, Wasps
Maurice Trapp (Gonville 1967)  current NZRFU president
Rugby World Cup
The College was part of the World Cup team base for South Africa (ranked second) during the 2015 tournament providing a first-class training ground. We worked very closely with the University of Brighton and Eastbourne's Grand Hotel in a partnership that delivered a superb base for the South Africans.