Elite and recreational programmes providing tennis for all
The College provides tennis for all, including an all-year-round programme for elite senior players. Our programme successfully puts the Eastbourne name on the national stage every year.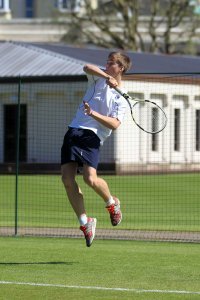 The summer is the key term for tennis: team and recreational players are involved in a full training programme with fixtures against other tennis schools in the South East. In addition, there is all-year-round tennis available for those who follow other sports. The College's senior mixed team reached the LTA senior student national finals twice in the last three years.
We benefit from our close proximity to Devonshire Park Tennis which allows us to play on some of the finest the grass courts in the country. The Nature Valley championship takes place at the end of June which College pupils can attend.
In 2019, the College further developed its close relationship with the Nature Valley International Tennis Championship so that coaches, officials and players could benefit from the proximity of the world-class facilities housed in the College's new state-of-the-art Winn Building. The College fed all of the officials, event and ball crews for the duration of the tournament, and was delighted to provide some ball boys and girls too. 
Elite Tennis Programme
Alongside a strong academic programme, the sixth form elite tennis programme is in place to provide tennis excellence for players who aspire to county and national standards of play. The programme runs all year round with a capacity for 12 players to train and play throughout the winter and into the summer. On top of squad sessions, there are one-to-one sessions with top coaches as well as player-led sessions. Winter squad sessions move indoors to the local David Lloyd Centre (DLC), or to the College's recently built sports centre where individual and group strength-and-conditioning sessions take place. This programme of tennis and academic pursuits enables players to achieve full tennis scholarships to top US universities.
Coaching team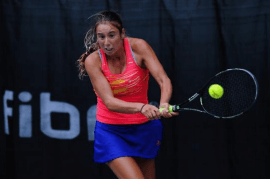 Performance Tennis Coach, Suzy Larkin
In her time as a touring professional (2016-2018), Suzy reached a career high of 620 in the world rankings and 14 in GB. She is the current Sussex County Champion and has enjoyed recent success in GB Tour events; she played nationally and internationally as a junior. Suzy is an LTA and Professional Tennis Registry qualified coach and has many years of club and performance coaching experience at home and abroad. Suzy will be full time and residential (living on site).
Craig Wells
Craig is an experienced Level 4 LTA Coach who has worked at Eastbourne College for a number of years. He represented Sussex as a junior player and still plays to a high level.
Francis Mackie
Ex-Great Britain over-40 player, runs sessions locally for all standards.
Luciano Cestari
Head Coach at David Lloyd Eastbourne and has coached and played in Argentina to Pro Circuit level.
Simon Gent
Head of tennis and oversees players and coaches throughout the year at all levels, including supporting the players in the elite programme.

Recent success
2020
The senior girls team were national champions in the LTA Winter Schools Championships.
The senior boys team reached the Winter Schools national final, finishing 4th.
2019
The senior mixed doubles team finished third in the LTA national seniors competition
The senior girls team won the summer Sussex U18 schools title
The U15 girls team won the County Schools and the South East regional titles
2018
U18 girls A team pre-seeded third in the country for National British Schools Championships in Nottingham
U18 mixed team: LTA Students League regional winners and national finalists in Bolton
2017
U18 Girls A Team finished sixth at National British Schools Championships in Nottingham
U18 girls runners-up at the Independent Schools Tennis Championships at Eton
U18 girls Sussex champions
U15A girls won LTA Sussex League and Cup in regional finals
U15A boys finished second in regional finals