Cara Dillon in concert
Location: Birley Centre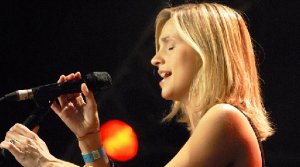 A native of Dungiven, County Derry, Cara Dillon, who according to Mojo magazine has 'Quite possibly the world's most beautiful female voice'.
In the early years she sang with folk music's super group, Equation, where she took over from Kate Rusby and since then she has been regularly performing to sell-out audiences home and abroad.
In the intimate setting of the Birley Centre, together with a Steinway piano and her husband and musical partner, Sam Lakeman, Cara is sure to deliver a set of moving songs with every note and word sung with passion.
Seats £24.50 (balcony and auditorium)
In advance (ONLY from the Hailsham Pavilion)
01323 841414
Details – www.spyboy.co.uk
Wine bar. Running time 150 minutes
Doors open at 6.45pm