CANCELLED – Lindy Dunbar presents 'Movement and Rest' (4-26 April 2020)
Location: Birley Centre, Eastbourne College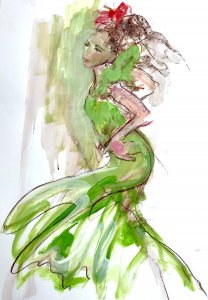 Our sincerest apologies but due to increasingly stringent measures that aim to mitigate the spread of Covid-19, we are unable to run this event. Please do check forthcoming events regularly as we move into the summer term.
This exhibition runs from 4 to 26 April 2020, Saturdays and Sundays, 10.00am till 4.00pm. Also Good Friday 10 April and Easter Monday 13 April.
Lindy returns to exhibit her spirited figurative drawings and paintings, often drawn directly from dancers and acrobats capturing their continual movement and brief moments of rest.
Alongside the drawings will be landscapes and interiors in a variety of media.
A local artist and tutor, she is a visiting tutor to the College and exhibits at London Art Fairs, Glyndebourne and many other venues, as well as selling prints of her work in John Lewis.
Entrance is free and all are welcome.
www.lindydunbar.co.uk
For the College's spring 2020 arts programme, click/tap here.