Pro Arts Drama Presents 'Done to Death'
Location: Le Brocq Studio, Eastbourne College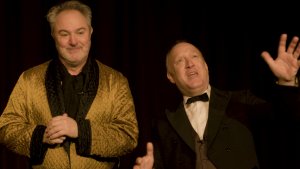 A Pro Arts Drama presentation…
A cast of six bring a comic flurry of suspects together to discover who done what, and why… Except, well…four of the cast are stuck by the side of the road in the van, and only those two knights of the theatre, Sir Gavin of Robertson and Sir Nicholas of Collett, have managed to get to the venue but 'the show must go on'. What could possibly go wrong?
Comic clichés from the British detective genre, Holmes, Miss Marple, Hercule Poirot and Watson, sleuth their way through this genre-busting comedy from the masters of inventive silliness. That's if the two of them can get through the play at all without losing the plot. Literally. It's not a new idea; it's been DONE TO DEATH, BY JOVE. But not like this. Promise.
Tickets £10 (free to Eastbourne College pupils) 01323 452255, boxoffice@eastbourne-college.co.uk and www.wegottickets.com. Running time 60 minutes, Refreshments available.
For the College's spring 2020 arts programme and for further details of other drama productions, click/tap here.