CANCELLED – Spyboy Promotions presents 'Ronnie Scott's Story'
Location: College Theatre, Eastbourne College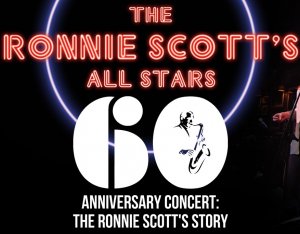 Our sincerest apologies but due to increasingly stringent measures that aim to mitigate the spread of Covid-19, we are unable to run this event. Please do check forthcoming events regularly as we move into the summer term.
Celebrating the 60th anniversary of one of the world's most iconic venues, the Ronnie Scott's All Stars present the 'Ronnie Scott's Story'.
Combining world-class jazz alongside archive photos and video, The Ronnie Scott's All Stars take you on a musical tour of this institution.
Featuring classics from the jazz greats who have performed at Ronnie Scott's, and tales of old Soho, miscreant musicians and police raids, the Ronnie Scott's Story is a glimpse into a unique world and its incredible history.
Led by the club's musical director, this is a unique evening and is a must for any music fan.
Tickets £25.00 on sale only at the Hailsham Pavilion 01323 841414 and www.hailshampavilion.co.uk
Running time 180 minutes, including interval. Refreshments available.
For the College's spring 2020 arts programme, click/tap here.