BBC Music Day 2019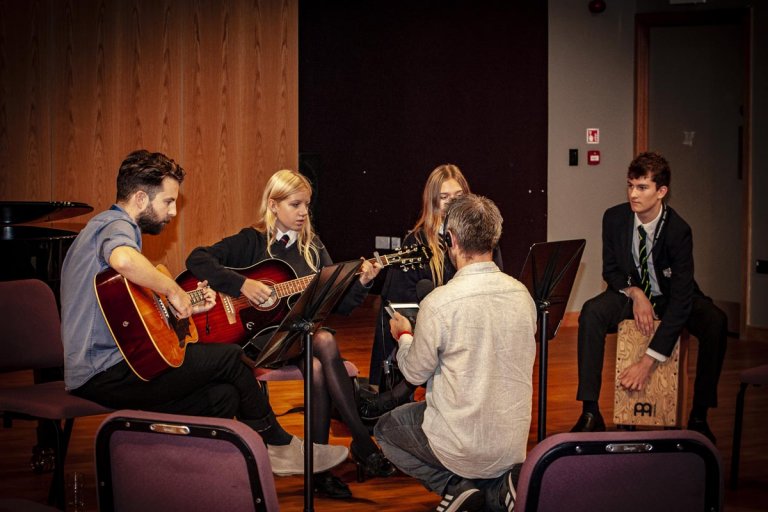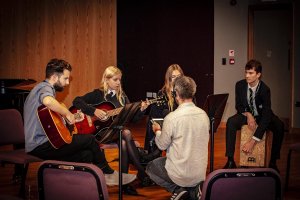 This morning, BBC Music Day came to Eastbourne College to interview professional music artist Tom Williams, and to help shed some light on the school's popular Singer Songwriter Workshop. You can listen to the interview here at 1 hour 41 minutes in.
In a two-part broadcast by BBC Radio Sussex and Surrey, talented young musicians between the ages of 13 and 18 were interviewed, performed songs they had written during the weekly workshops, and listened to resident teacher Tom talk about his life in music and how it has been enriched by teaching.
Culminating in a debut live performance of Coffee Shop, a song written and performed by Ella (vocals), James (cajon drum), Tom (Williams, guitar) and Willow (vocals), the opening words to the melody, 'freshly squeezed orange juice in the morning,' were the perfect way to highlight the theme of the day which focused on music and wellbeing.
During the interviews, Tom spoke of the friendly and relaxed nature of the weekly workshops which create opportunity for pupils to explore and share their work. Many of the pupils who come to the workshop have never written songs before and do so because they feel it is a safe place to be confident enough to give it a go; within six months they are performing and recording their songs for sale online (and on CD), the proceeds going to charity. He also mentioned how amazing it was that pupils can do 'song writing' as a formal half-hour lesson.
When asked about the key to writing a good tune, Tom said, 'a lot of it is about honesty and about going easy on yourself. A big part of the process is being honest with yourself… and improvisation… you have to allow yourself to let those ideas come through… and what I'm mainly encouraging them to do is to finish songs.'
Also interviewed were sixth formers Elo and Liv who spoke about their feelings of achievement – making something out of nothing. For them, the workshops are a way of expressing themselves and their ideas and getting it out there to the world. The two girls performed beautiful solos with stunning guitar and vocals being recorded for the longer broadcast format due to air in the evening show. Elo, who has recently released her song Keyboard Warrior  on Spotify and is about to release two more, says that her songs are inspired by a diet of, 'Squeeze, Lily Allen, Tracy Chapman, Jake Bugg and more.'
Known by some as the songwriter's songwriter, Tom Williams has released over 200 songs in nearly as many days! His recent tracks, Run Down, Early Morning Rain and Stay Afloat are popular additions to his raft of musical material and he recently started working with Grammy Award-winning songwriter Tim Rice-Oxley, better known as keyboard-playing, singer and songwriter of British pop-rock band Keane (Everybody's Changing; Somewhere Only We Know). Tom has been making music for ten years and has a great relationship with the BBC, having recorded many live sessions and having many of his tracks play-listed on radio stations over the years. He has released seven albums on independent and major labels and increasingly (as his teaching career has developed) teaching has begun to appear more in his writing. His latest album, What Did You Want To Be?  was produced by Tim Rice-Oxley of Keane at his home studio.
Commenting on the BBC Music Day experience at Eastbourne College, Tom said, 'It was a really fantastic showcase of the amazing song-writing talent we have at the College and the vibrant and creative community that is the song-writing workshop.'