An active and wide-ranging programme
Art is an important part of everyday life at the College and there are many opportunities to explore new skills.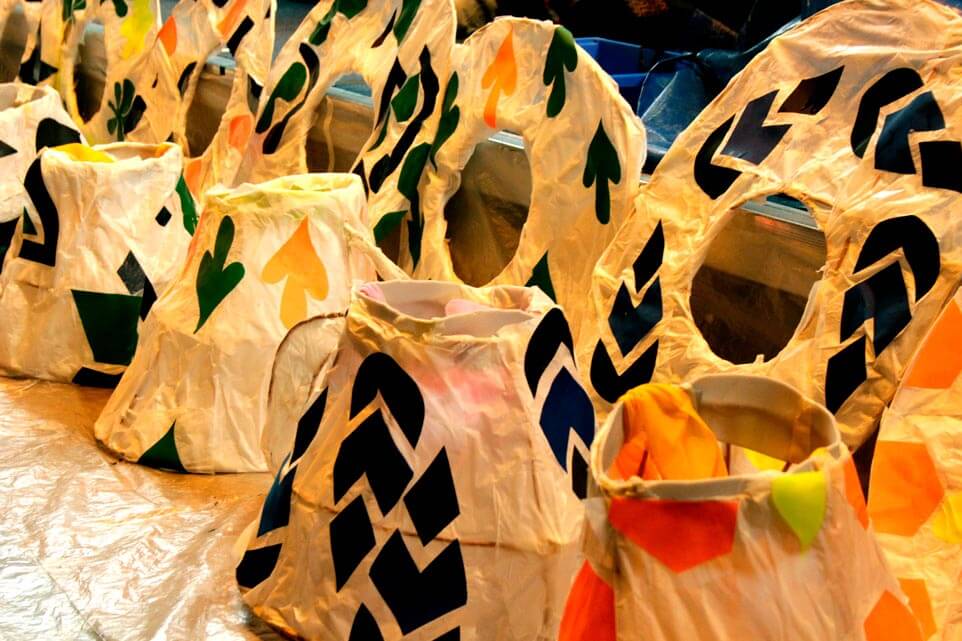 The Art School is open for recreational activities on weekday afternoons, evenings and Sunday afternoons, and there are also regular displays of the work of both pupils and professional artists in the Birley Centre. To see examples of GCSE and A-level works, visit the Art Department's main page.

Recent Projects and Work
Towner Same Sky, February 2017
In February 2017, 18 Year 10 pupils took part in the adjacent Towner Art Gallery  annual schools project to produce costumes and props for the Eastbourne carnival. Under the guidance of Paul Render from Same Sky, pupils decorated willow-framed cups and saucers inspired by the work of Eric Ravillious, and constructed by pupils from Cavendish School. Over 30 schools across East Sussex were involved in producing the Towner entry for the carnival parade in May.
New York Trip, February 2019
During the February half term, 26 creative arts pupils from the sixth form went to New York to visit many of the sites, museums and shows that the city has to offer. The four-day trip was packed with cultural highlights: a visit to the Broadway Musical, an interactive visit to the Cooper Hewitt Design museum, MoMA, the Guggenheim, a Radio City Tour, the Empire State Building, 9/11 Memorial, and many more. All pupils had an action-packed adventure, enjoying so much in such a short space of time.
Photography Gallery Trip, Autumn 2017
Sixth form photographers visited the Gregory Crewdson Exhibition at The Photographers Gallery in London. This trip enabled pupils to see an extensive body of work taken by this world-renowned artist photographer. Pupils were able to photograph the work and to analyse the techniques used to create such meticulous imagery and lighting.
St Wilfrid's Hospice, Big Draw, with Illustrator Ed Boxall
Gold Arts Award pupils attended a drawing inset with artist and illustrator Ed Boxall.
Young Craftsman of the Year Ceramic Winners
Year 11 pupils, Charlotte Chatterton and Cole Warren, won awards for their ceramic work at the Young Craftsman of the Year Competition at the South of England Show. 
Year 10 Jerwood Visit
Year 10 pupils visited 'The man who loved the Sea' at the Jerwood Gallery in Hastings to see the work of Paula Rego who is one of the greatest figurative artists working today.
Arts Festival 2017
In June 2017, Lower Sixth artists and biologists spent a day in Amsterdam visiting galleries and the Body Works Exhibition. They then spent two days in arts festival workshops responding to all that they had seen using paint, sculpture and iMovie.
Photography Competition
Louis Wood in Year 10 won the first whole-school Photography Exhibition.
Click on the images below to view the winning photos for each category:
Download our summer arts programme

Follow the Creative Arts Instagram for updates