THE COLLEGE ACHIEVEs outstanding 2023 a-level AND GCSE results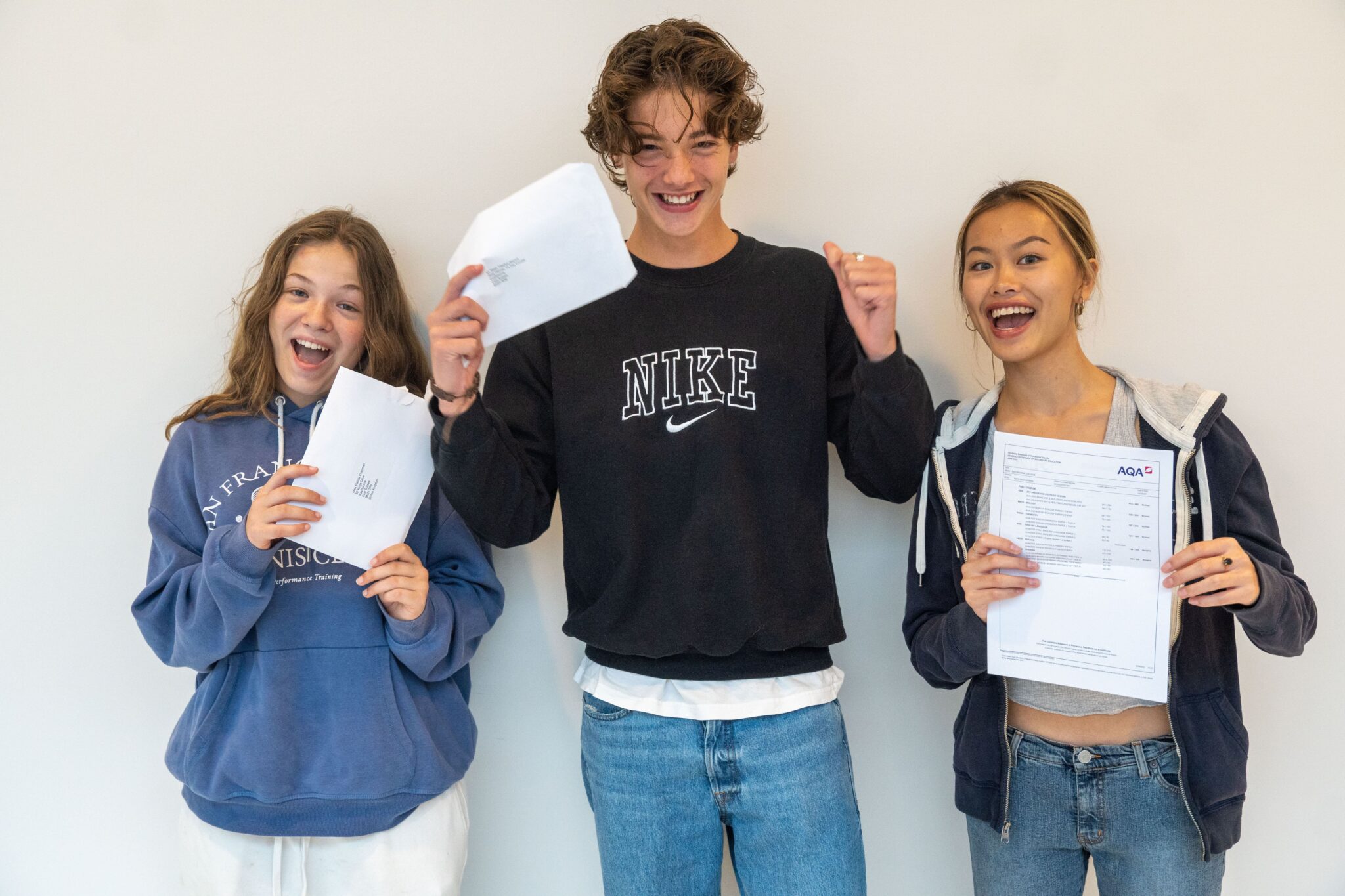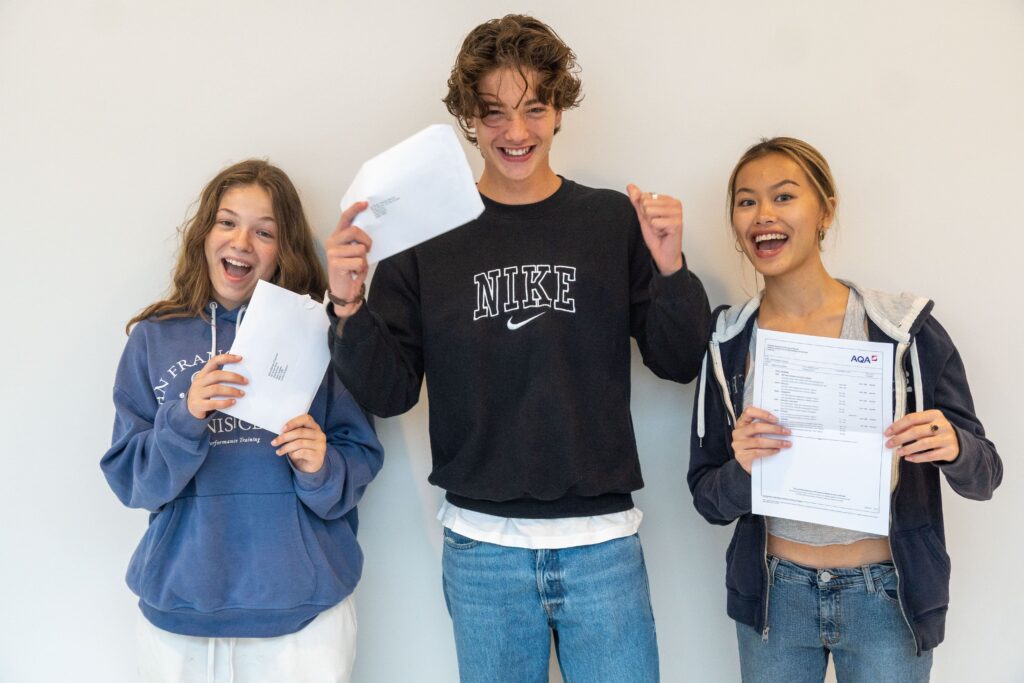 A-levels
Eastbourne College celebrated outstanding 2023 A-level results with half of all exam grades awarded at A* or A, plus a further 24 A* grades achieved in Extended Project Qualifications (EPQs).
The 50 per cent of grades achieved at A* or A represent a 10 per cent increase on the pre-Covid years, compared with 39 per cent in 2019, and are the school's best results achieved by this measure under full A-level conditions in a decade.
75 per cent of grades were awarded at A* to B, up by six percentage points on 2019 grades, when exams were formally sat in person. It comes after predictions that the proportion of top grades nationally would fall in 2023 and return to pre-pandemic levels, following the teacher-assessed grade system in 2020 and 2021, where pupils had advance notice of the questions and no exam hall pressure.
Some of the highest grades were achieved across the STEM subjects. In Science, Mathematics, Computing and Design, 82 per cent of grades were A* to B. In Mathematics, 93 per cent of grades were A* to B and 76 per cent A* to A. Girls achieved 85 per cent A* to B grades across all three science subjects – Biology, Chemistry and Physics.
Core humanity subjects were also extremely strong, with 90 per cent of grades achieved at A* to B in History and 80 per cent at A* to B in English. Pupils at Eastbourne College take the gold-standard A-level qualifications only and there was a 100 per cent pass rate.  
In addition to core A-level subjects, most sixth form pupils at Eastbourne College complete an Extended Project Qualification (EPQ) to develop additional skills in preparation for university or a future career, with 24 A* grades achieved in EPQs this year.
One in four pupils achieved an A* or A grade in all their A-level subjects, with all Oxbridge and medical school applicants achieving their grade offers.
Headmaster Tom Lawson said: "It's fantastic to see our A-level results continue an upward trend rewarding the efforts of pupils and teachers following tough Covid years.
"It's a privilege that we can offer academic awards to support talented young people like Karam and Florence, who both joined us in the sixth form, to pursue their ambitions. These scholarships allow pupils from all backgrounds to fulfil their potential.  
"I am enormously proud of all our pupils celebrating today – huge congratulations to them. I would also like to thank all our brilliant staff for their commitment and hard work."
GCSEs
The school also celebrated excellent GCSE results, with the proportion of grades achieved at 7, 8 or 9 (equivalent to A or A*) at 57 per cent – an improvement on grades achieved at this level in 2019 and the school's best performance by this measure since 2017 excluding the Covid-affected years.
More than a third of all grades were 9 or 8, equivalent of A* under the previous grading system. With predictions that the number of top grades awarded nationally would fall significantly this year the excellent results by College pupils shows their resilience in coping with tough exam conditions.
Eighteen pupils achieved a clean sweep of GCSE results with every subject awarded at grade 7- 9, equivalent of straight As in all subjects.
Some of the highest grades were achieved in modern foreign languages, bucking the national trend of falling commitment to language learning: 66 per cent of all grades in modern language were the very top grade of 9. History saw more than half of its grades awarded 8 or 9 and 85 per cent of grades in the three separate sciences were 7, 8 or 9.
90 per cent of the grades awarded to pupils taking early GCSEs in Years 9 and 10 were awarded grade 9.
Mr Lawson said: "A huge congratulations to all our pupils. Our bumper number of exam entries (1257) this year, up a quarter on the last two years, demonstrates the growing popularity of the College and the breadth of subjects we offer at GCSE. This year's cohort has shown great resilience in the face of significant challenges and disruption: the pandemic was in full swing as they were selecting their options and starting to prepare for their GCSEs.
"We are very proud of our pupils' academic success – just as we are proud of all their achievements outside the classroom. This year's results come off the back of a superb season for tennis and cricket, with our players securing county and national wins, plus national arts awards for our design talent."
Beyond the Results
The College does everything possible to ensure that pupils perform well in public exams. Our staff focus beyond the results too, working hard to develop young people who will live fulfilled and successful adult lives.
Pupils are given every opportunity to achieve their very best, whether it be in the academic classroom, the creative arts departments, or on the sports field. They thrive in this welcoming and purposeful environment and develop into highly able individuals who leave prepared to live positive lives; able to work with others; self-confident, resilient and who show initiative and leadership.

With 50% of A-levels awarded A*-A and over a third of all grades awarded 8-9, our outcomes compare extremely favourably against more selective schools in the UK