A strong record of academic achievement
A-levels 2020
A-level results at Eastbourne College were up for the third year in a row as pupils achieved a swathe of top grades.
In 2020, 55 per cent of the grades awarded were A* or A, and the overall proportion of A*, A or B grades was a shade under 80 per cent. 93 per cent of grades awarded to our scholars were A*-A.

Unlike many other schools and Colleges, all Eastbourne College pupils sit gold-standard A-level or Cambridge Pre-U qualifications for all their subjects and this year achieved a pass rate of 100 per cent.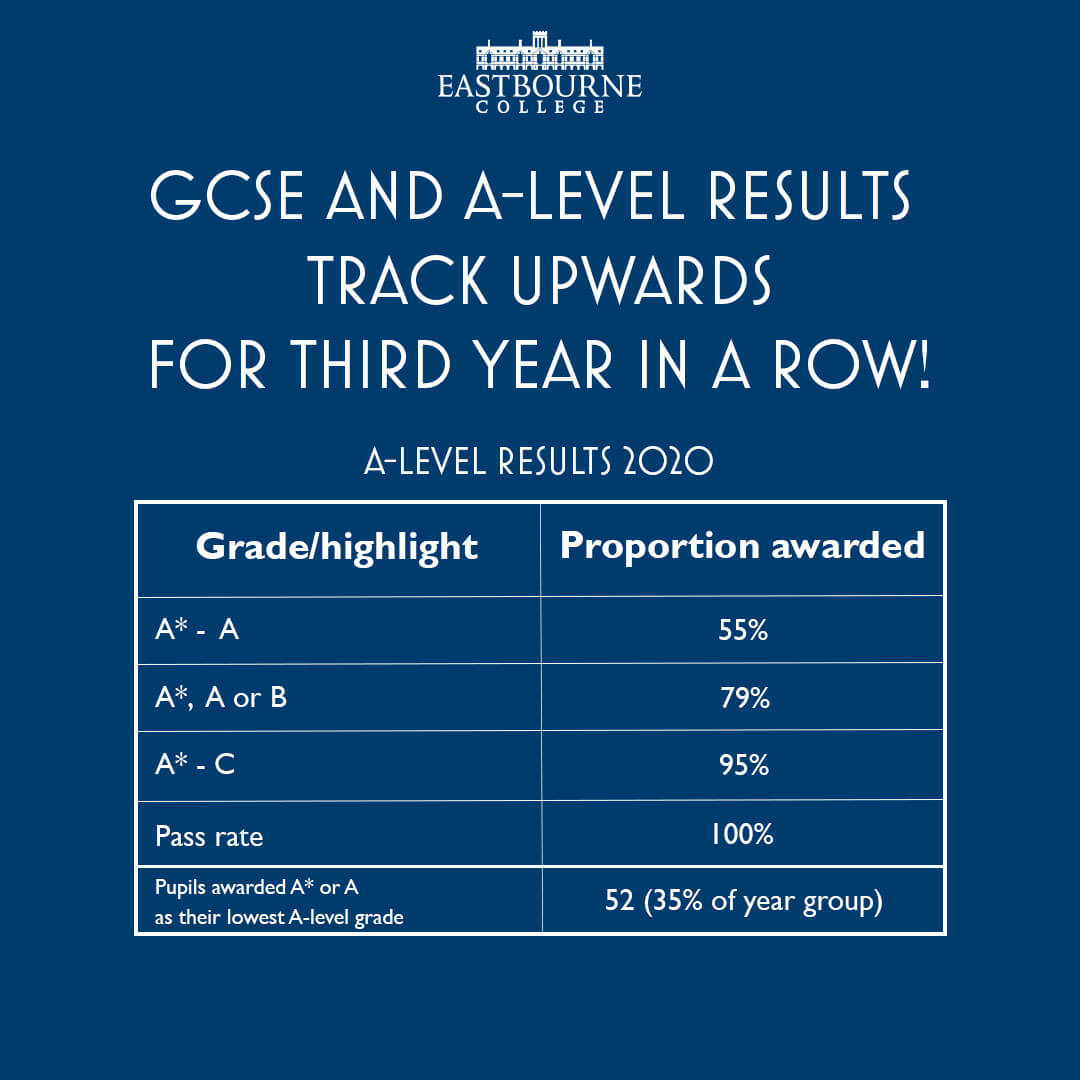 Maths, English, the sciences, the humanities, languages and creative arts continue to be beacons of excellence. Once again, the majority of pupils achieved A-level grades that enabled them to access top courses at the leading universities at home or abroad.
Chloe Cox, from Eastbourne (pictured below) achieved a remarkable five A* A-level grades and will take up her place to read Veterinary Science at Cambridge.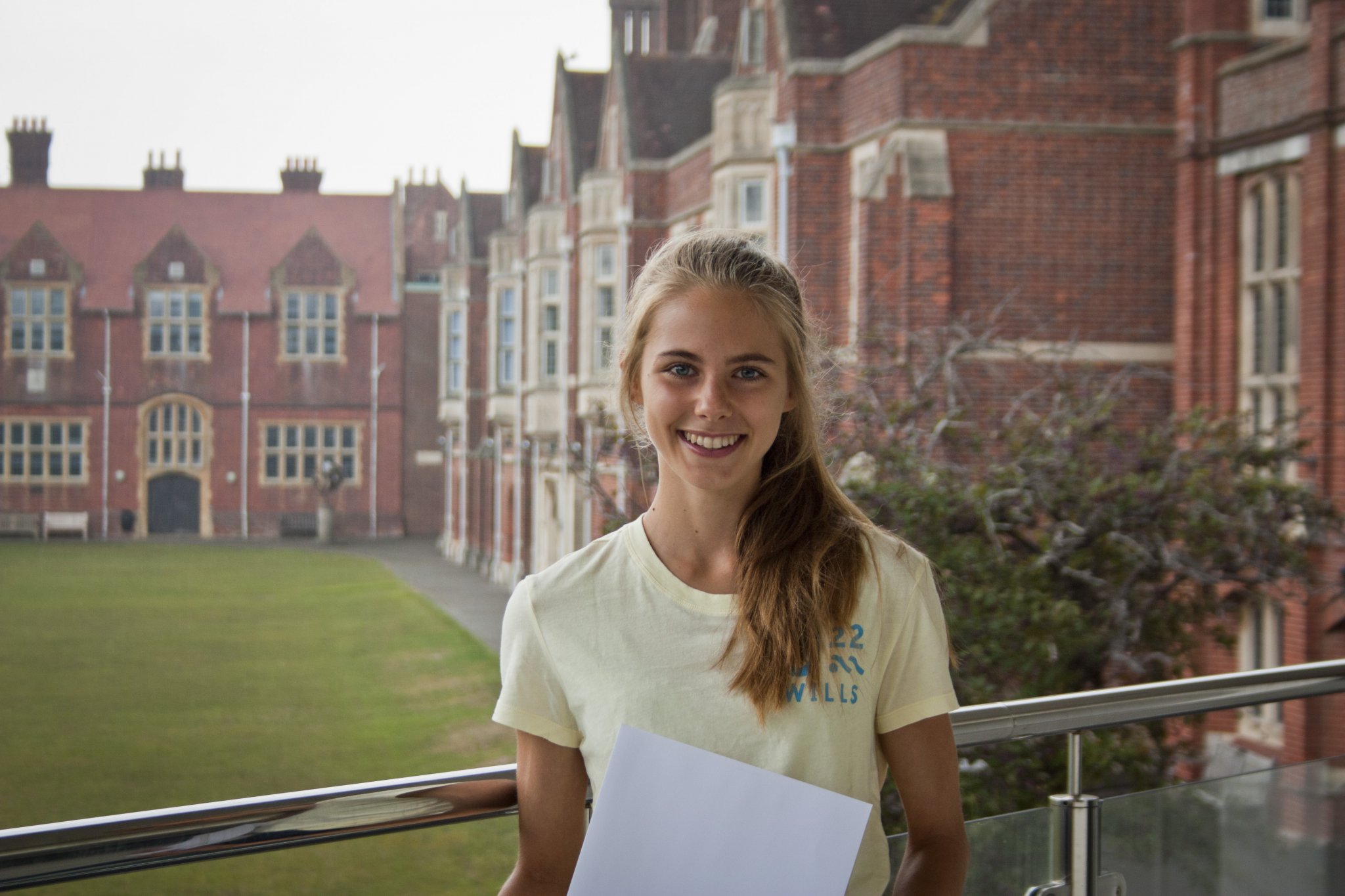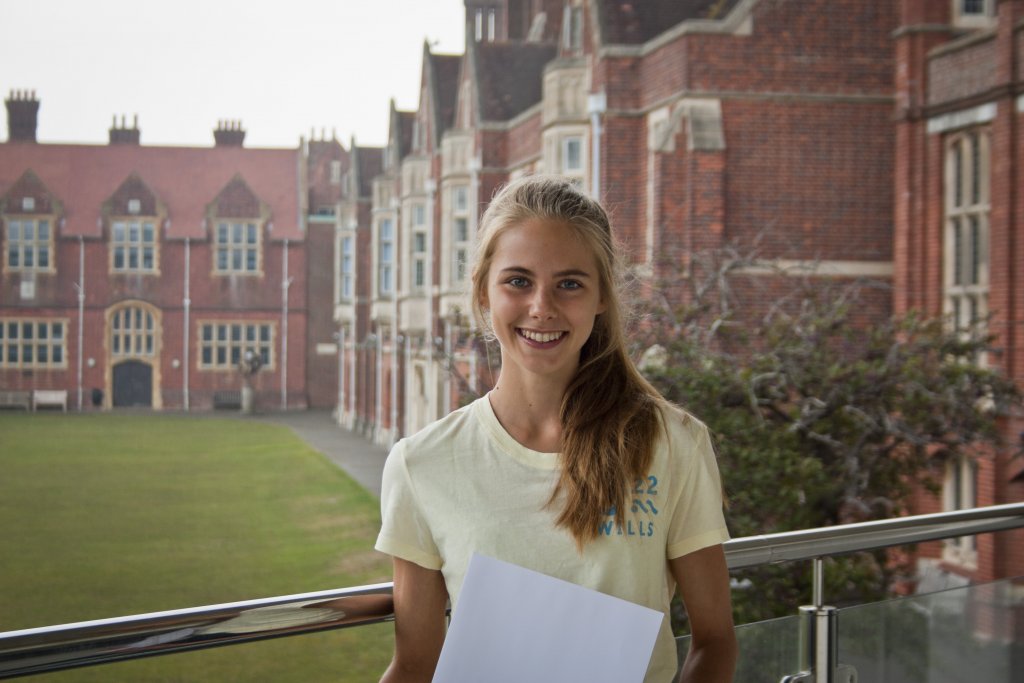 In all, 29 pupils achieved straight A*/A grades, including Luke Muschialli, Florence Ji, Joseph Shouksmith and Johnson Oh with A*A*A*A, and James Song and Leila Lopez-Moran with A*A*A*.
Eastbourne College's sixth form continues to grow in popularity, with over 150 pupils taking A-level exams this year and places for September 2021 (and scholarships) hotly contested.
GCSE 2020
GCSE and A-level results at the College have gone up for the third year in a row, with the proportion of top grades increasing each year. The recent set of results reflect a combination of hard work from pupils, parental support, year-on-year improvements in teaching and learning strategies, and the integrity of grading.
Over one in five (22 per cent) GCSE grades awarded to pupils were at the highest grade available, grade 9. Over 40 per cent of grades were 9 or 8 (equivalent to A*). Top grades accounted for the vast majority of grades awarded, with almost two thirds of all grades being a 7, 8 or 9 (equivalent to A*-A). Over a quarter of all pupils taking GCSE achieved ten or more grades at 7, 8 or 9, and thirteen pupils received ten or more grades at 8 or 9.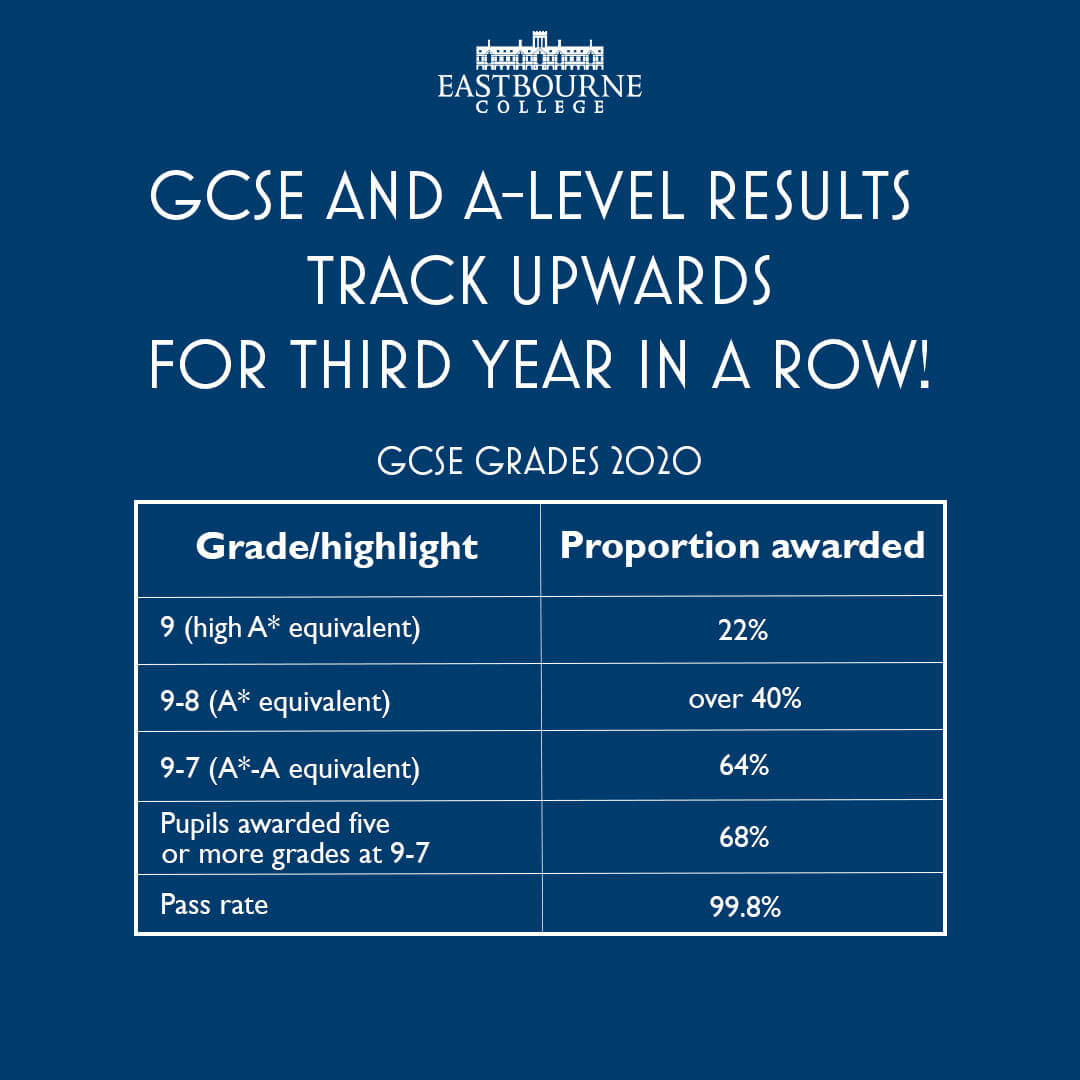 Almost 70 per cent of pupils were awarded five or more grades at 7-9. The school also achieved close to a 100 per cent pass rate with 99.8 per cent of grades awarded 9-4.
In 2020, the boys and girls did very well but it was the girls who stole the show: almost one in every three grades awarded to our girls was grade 9; over half of grades awarded to girls were 8 or 9 (A* equivalent); almost three quarters of grades awarded to girls were 7, 8 or 9 (A* or A equivalent); 90 per cent of grades awarded were 9-6 (A*, A or B equivalent). Top performers included Eastbourne locals: Liv Reeves (twelve 9s), Sapphyre Mills Kennelly (eleven 9s), and Izzy Skarbek (ten 9s) who collected 33 grade 9s between them.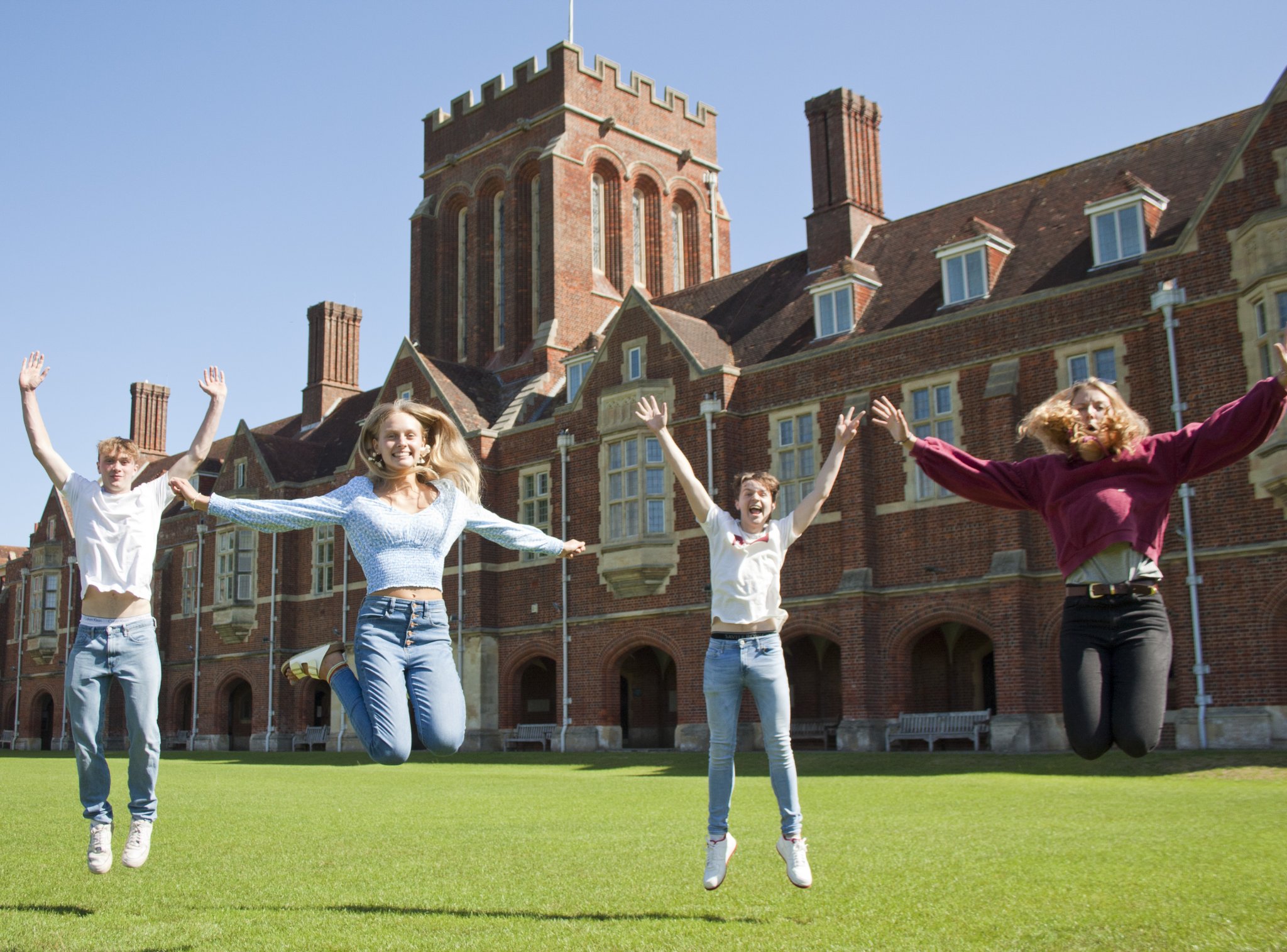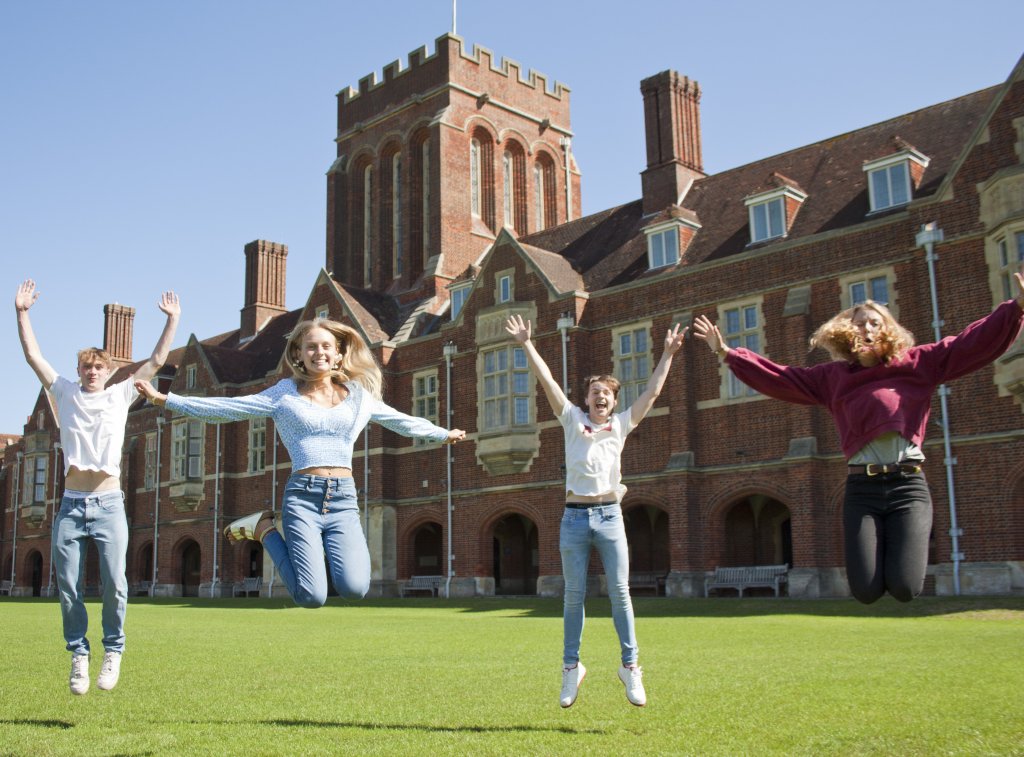 Value Added
Nationally, the College is among the top 4 per cent of schools for value added at A-level. To see how well the College performs in terms of value added, please follow the link to the DfE website. When assessing the data, please also account for the number of pupils completing three A-levels relative to the number of pupils in the cohort. At the College over 95 per cent of pupils leave with three, or more, A-levels at the end of the Upper Sixth.
Beyond the Results
The College does everything possible to ensure that boys and girls perform well in public exams. Our staff focus beyond the results too, working hard to develop young people who will live fulfilled and successful adult lives.
Pupils are given every opportunity to achieve their very best, whether it be in the academic classroom, the creative arts departments, or on the sports field. They thrive in this welcoming and purposeful environment and develop into highly able individuals who leave prepared to live positive lives; able to work with others; self-confident, resilient and who show initiative and leadership.

Over the past ten years the average percentage of A*, A or B grades achieved at A-level is 78%