What The Good Schools Guide says
Head
Since 2016, Tom Lawson (PPE Oxford), married to Jessica with two children and adored boxer dog Roy. Previously deputy head at Christ's Hospital, and a 16-year stint at Winchester.
At Eastbourne College (EC), the head has found his fit. He looks back wistfully to a time when public school was about becoming a balanced human being, not hitting the top of the league tables; his primary aim for pupils: to be good people other people want to be with – 'they come out really nice…'
Loved by pupils, who smile when they think of their head: 'great guy – decent sense of humour'; 'modern – bringing EC into the 21st century'; 'really nice… witty… makes an effort to know us all'. Tells great stories in assembly, which always start, 'So there I was…'
Parents like him too: 'really approachable… very jolly'; 'highly intelligent… great business acumen'; 'will look at each child… understand that kids can have a bad day'.
Entrance
Lightly selective. Pupils from the allied St Andrew's Prep, with which EC is working on a bridging curriculum for years 7-9, and other prep and state schools. EC now accepts pupils on the basis of school report, CAT scores and reference in year 6; the head seeing no point in the CE, or putting year 6 pupils through the stress of a test.
Exit
Around 20 per cent leave after GCSE. At 18, most to university, the majority to Russell Group. Exeter, Cardiff, Durham, KCL, Warwick and Newcastle all popular. Five to Oxbridge in 2021, and five medics. Usually some overseas – seven in 2021, all to the USA including Vassar College and Parsons New York (school has a strong reputation for sending good numbers of tennis player to US universities on scholarships). Often a few into business apprenticeships, specialist art or drama colleges such as Guildhall School of Speech and Drama, ACM and University of the Arts.
Latest results 
In 2021, 65 per cent 9-7 at GCSE; 58 per cent A*/A (80 per cent A*-B) at A level. In 2019 (the last year when exams took place), 60 per cent 9-7 at GCSE; 40 per cent A*/A at A level.
Teaching and learning
Pupils head down in quiet concentration. Is it always like this? In maths, mostly, but not when it doesn't need to be. Not in English, said our guide, people talk non-stop in English. And in economics – which the head teaches.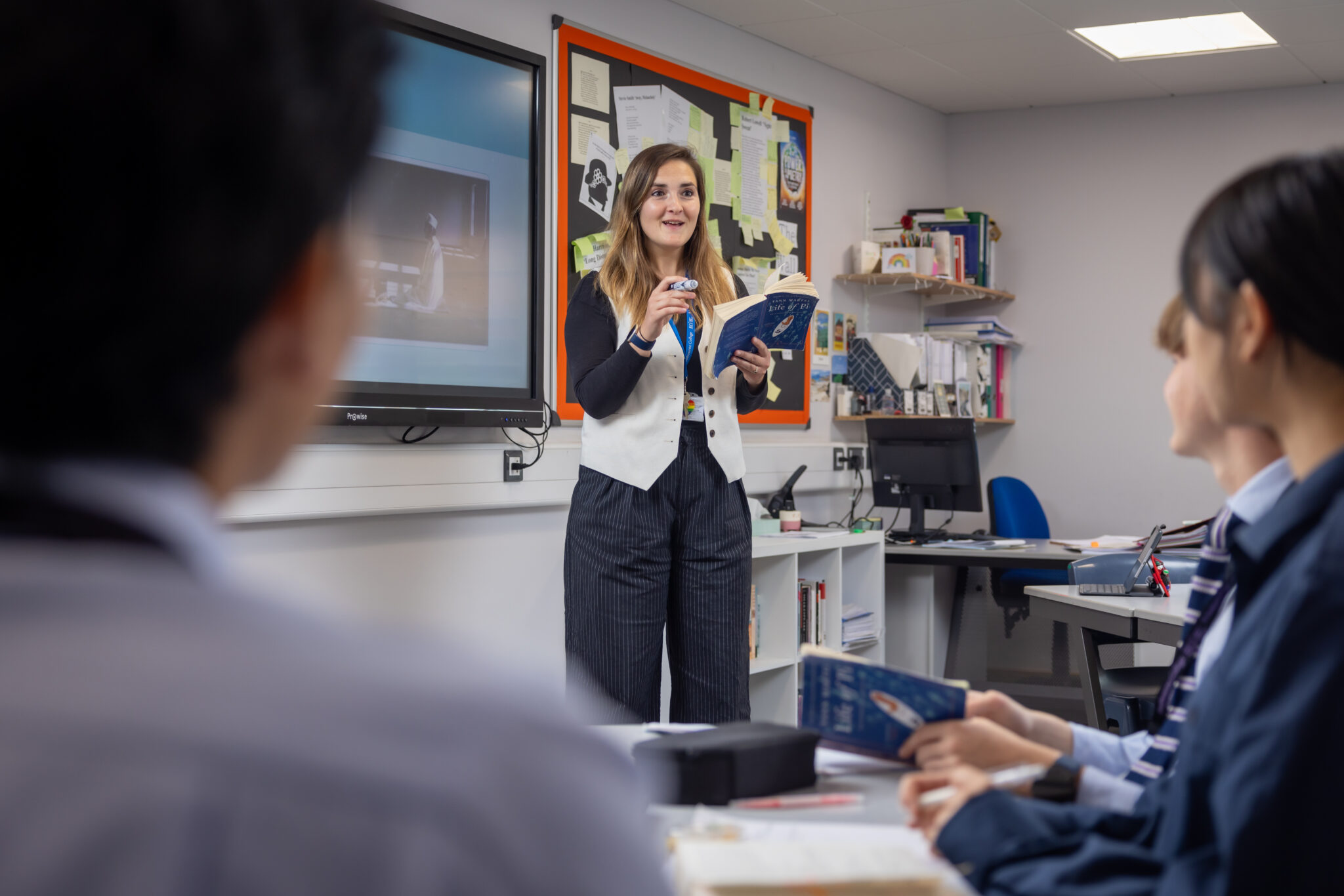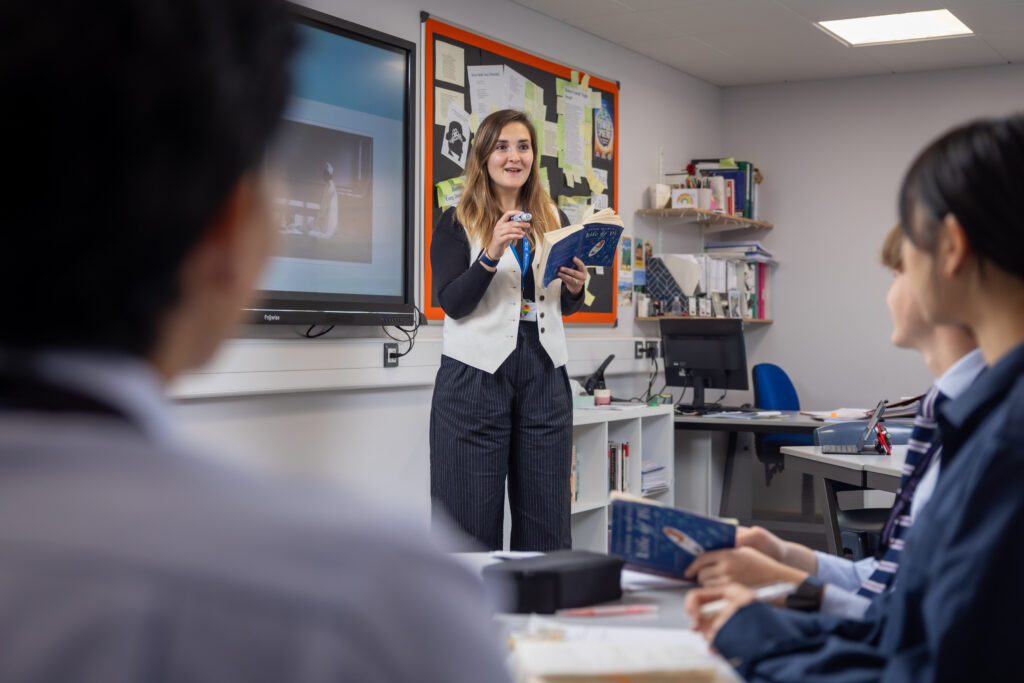 A largely traditional subject offering, including classical civilisation, Greek and Latin, but politics have made it onto the curriculum and the school is open to offering other subjects where there's demand – 28 subjects now offered in sixth form. Desire to study non-curricular languages is accommodated wherever possible.
EPQ or the Gold Arts Award available to supplement A levels. The head is also introducing an online passport to ensure pupils are on track for life, to include skills from cooking, driving and finance to team work, charity and resilience. By the time they come to fill out UCAS, these pupils will be ready, as will macaroni cheese and a balanced bank account.
An excellent level of high-end results at this lightly selective school. Science and maths are particular strengths. The head is keen to increase academic results, but says he will do this with better teaching and learning, not by becoming more selective. '[They] work twice as hard because it's not selective,' said a parent, who added that this comment could apply equally to teachers and pupils.
One parent said her above-average son thrives at the EC 'because of the nurturing approach, and their kind, gentle way of getting results'. Another described the teaching as 'on the whole good', others commenting on the 'spectacular teachers', in particular in science and music. There is the odd bit of home tutoring here and there, but extra sessions are also provided at school.
Two reports a term, achievement and effort grades; tutors go through reports with pupils, who add their comments and targets, before the report is posted online for parents. Feedback in report cards is very helpful, said a parent; they are 'on top of it all the way'.
Saturday morning lessons have been replaced with a programme of optional guided enrichment sessions.
A head of futures is in post, and sixth formers are delighted: one told us careers advice used to be 'nothing much', but now they have someone to help with university, careers, and skills; 'very good news,' said a parent. There's no point going to an event if you can't go up to someone, shake hands and introduce yourself, says the head of futures, fresh from a lesson on communication skills and year 9 pain at having to stand before their classmates and say their name and what they love doing.
School of Pre-Medicine (series of seminars for sixth formers) is popular, and the school is one of only a few in the country to be fully trained up to teach the Chartered Institute for Financial Securities & Investment (CISI) level 2 award in fundamentals of financial services.
Learning support and SEN
Learning support help with a broad range of conditions, but not at the severe end of the spectrum. Out of class, one-to-one assistance, charged as extra. Parents are very happy with support, one saying the head of learning support is 'approachable, helpful and great at communication'; another that her dyslexic son has had 'phenomenal results'. All year groups screened.
The arts and extracurricular
There's space every afternoon for co-curricular activities (although we have never seen detention listed as such before): games, service or creatives.
Service starts in year 10 with CCF for all; not all are keen, but school is enthusiastic about the opportunities for challenge and teamwork. Some continue with CCF, while other year 11s learn the skills to go out into the community. By years 12 and 13, pupils are volunteering in charity shops, schools and old people's homes.
The creatives' options include all things musical and artistic, from the Gold Arts Award (an arts alternative to the EPQ) to singing with the Decibelles or Testostertones. Parents comment on the 'amazing art and music departments', with a 'standard of professionalism [that is] wonderful'.
Art exam work is displayed in the Birley Centre and is of a very high standard – pupils regularly obtain top grades here. The art department is rich with works of the imagination, and lively with challenge, a teacher describing with enthusiasm the reward of life drawing without looking at the paper. We loved the innovative work in textiles, projects showing the meticulous care taken by pupils, one considering a 'communion of threads'; we particularly liked the map dress, cut to a figure and a landscape.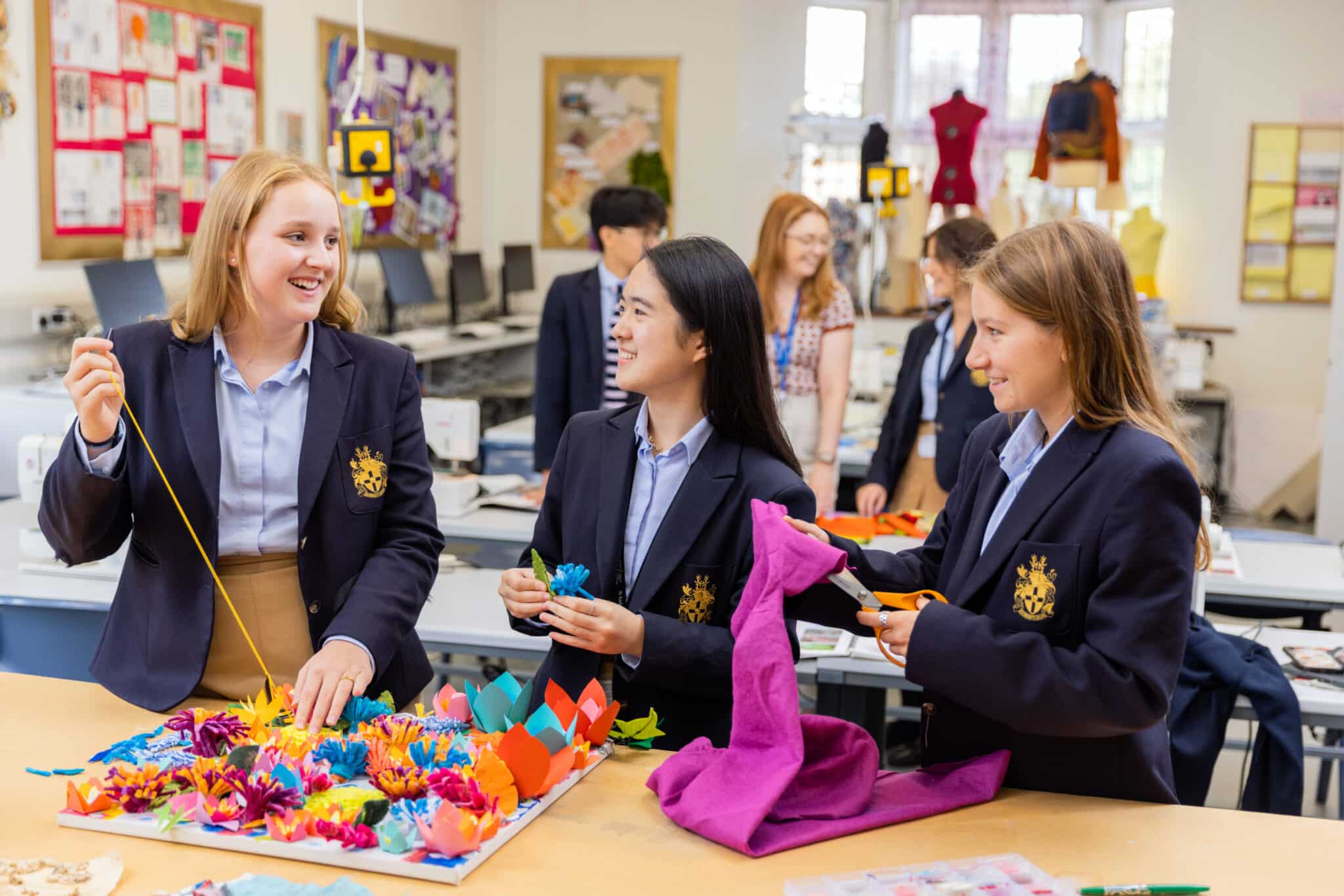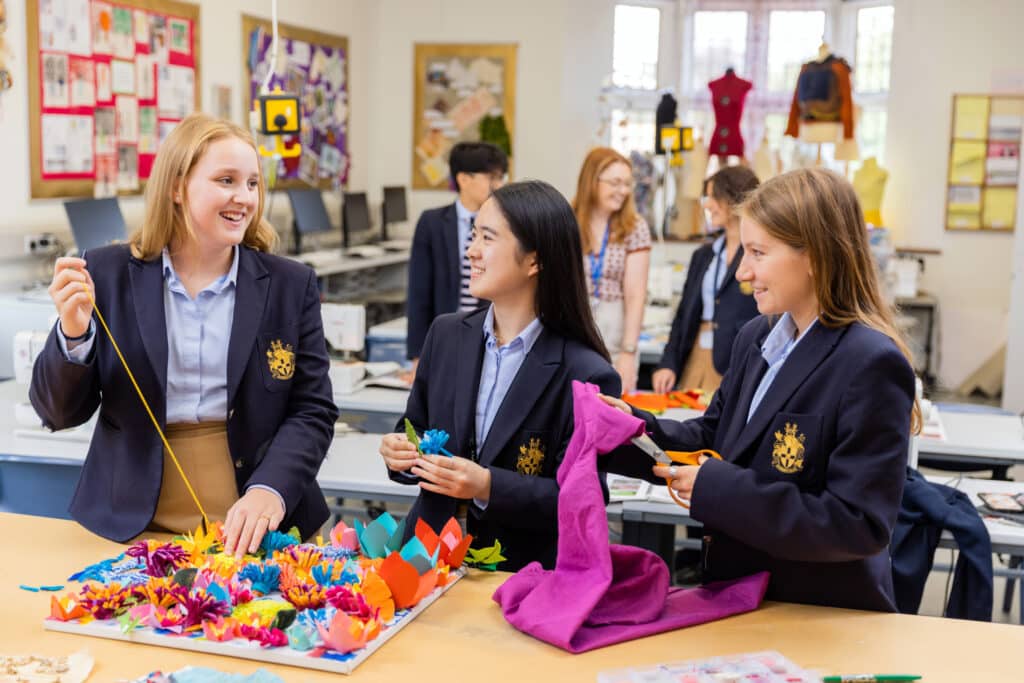 A parent described the musical talent at EC as 'unbelievable'. There aren't any foreign music tours (unlike sports and arts), but plenty of domestic performances, and 'standards are incredible' at school open concerts, say parents.
There's a lively drama department, with productions ranging from School of Rock to The Crucible, and a small group performing at the Edinburgh Fringe in 2019.
Sport
'It's a very sporty school,' said a parent, and they play everything, the girls excelling in tennis and hockey, the boys at rugby, which is the major boys' sport here (football is classed as one of the many 'other options'). 'Hockey is excellent,' said a parent, whose son plays for England, and says the school is very flexible about time away training, and helping him catch up with work afterwards. A girls' cricket team is just starting up, and the school will accommodate any girls who want to play football. The school is very proud that 93 per cent of pupils represented the school in teams last year, believing that team play is one of the best things about sport. The aquathalon (swimming in the sea, then running along the prom) was only cancelled because of stormy seas – but the whole school was steeplechasing across the downs…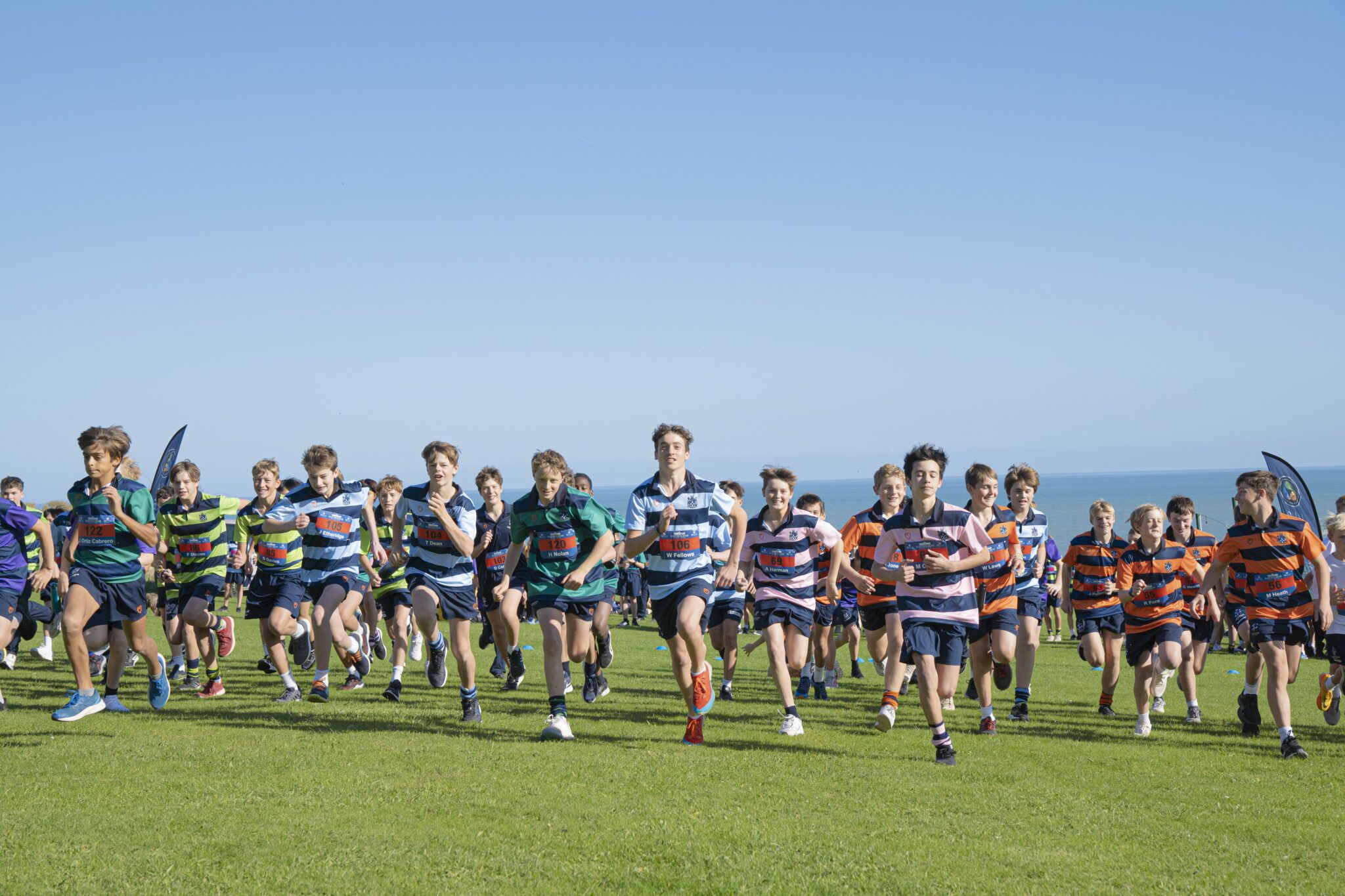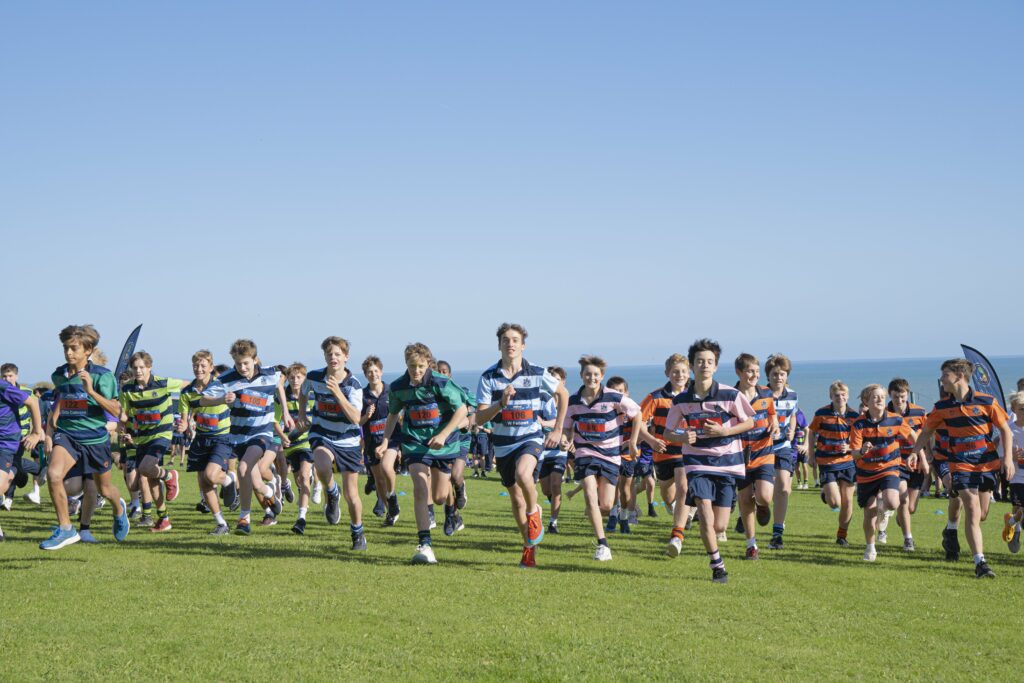 The school has just completed £33m worth of works – Project 150 (that's how many years they've been here); they have 'enhanced how [my daughters] feel about [school],' said a parent. It's top class stuff – not just a big swimming pool, but one with Olympic training pads at the end of each lane; the ballet studio even has a raised roof for those high leaps across the centre. Dry changing rooms and wet; everything a sporty person could desire. DofE too, with the highest rate of gold awards in Sussex.
Boarders
Around 45 per cent of pupils here board, with three boys' and two girls' boarding houses. They cross the age range and pupils form small families who look out for each other; it works really well. International boarders come from a range of countries, and make up 15-20 per cent of the boarding community.
Parents describe strong teams in the houses, from matrons who 'really look after them' to 'the housemistress [who] couldn't have done more to help my daughter settle,' said a parent, admitting it was hard but saying they give plenty of individual attention, and the housemistress was 'amazing – dealt with issues before they became issues'. Another described her son's housemaster as 'absolutely brilliant… slightly disorganised… it's quite endearing… he needs a nap now and then'. Her weekly boarding son has learnt to be very organised, but there are prompts – 'They don't expect complete self sufficiency,' said the parent.
Spacious, colourful common rooms with a constant supply of fruit, and kitchen for toast and drinks. Own ensuite room from year 11, spacious shared study bedrooms in years 9 and 10; no choice over room mates – pupils don't seem to mind. 'If girls don't get on, they will be thrown in together; they will press on through difficulties by getting to know each other,' said a parent. 'They don't shy away from problems.'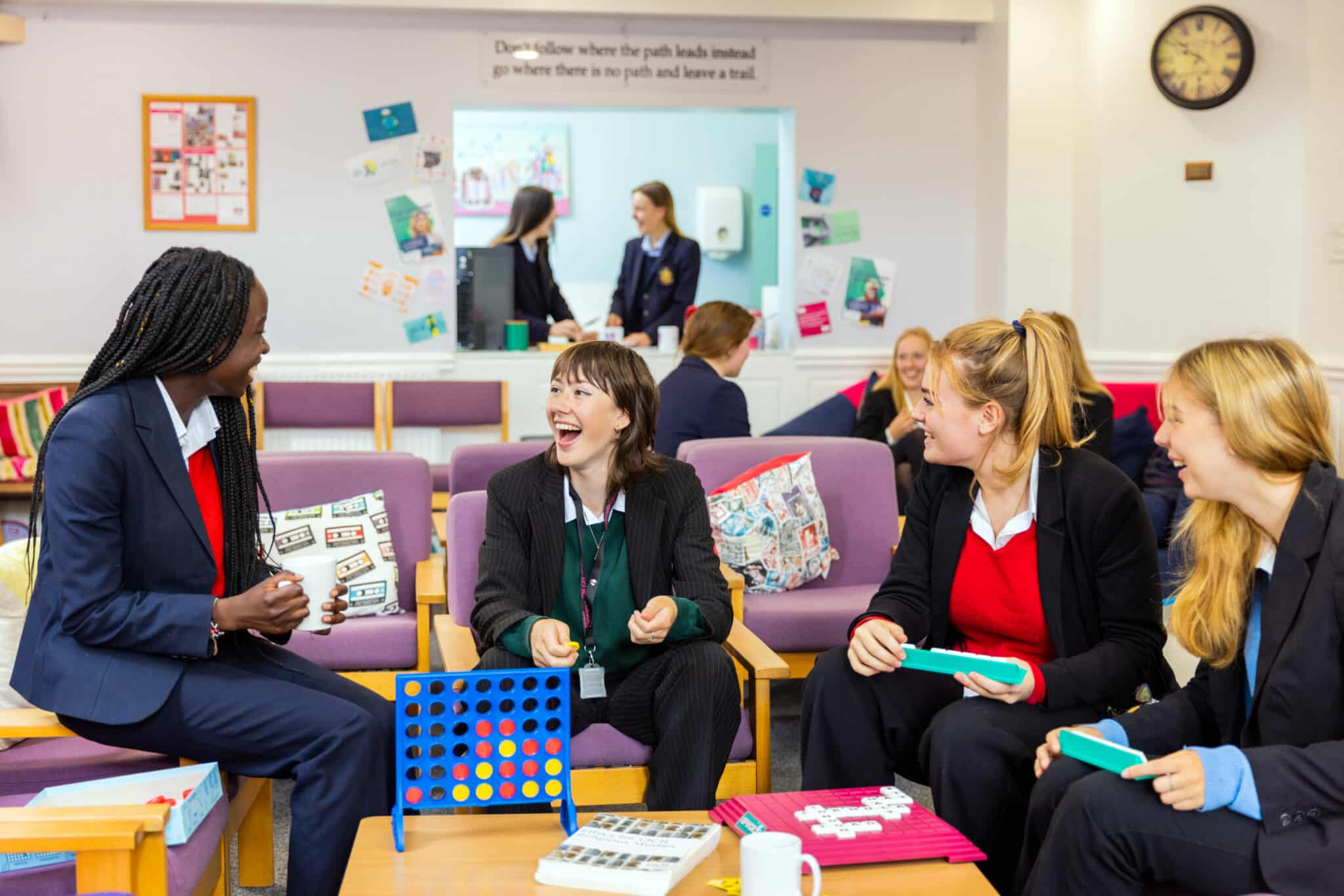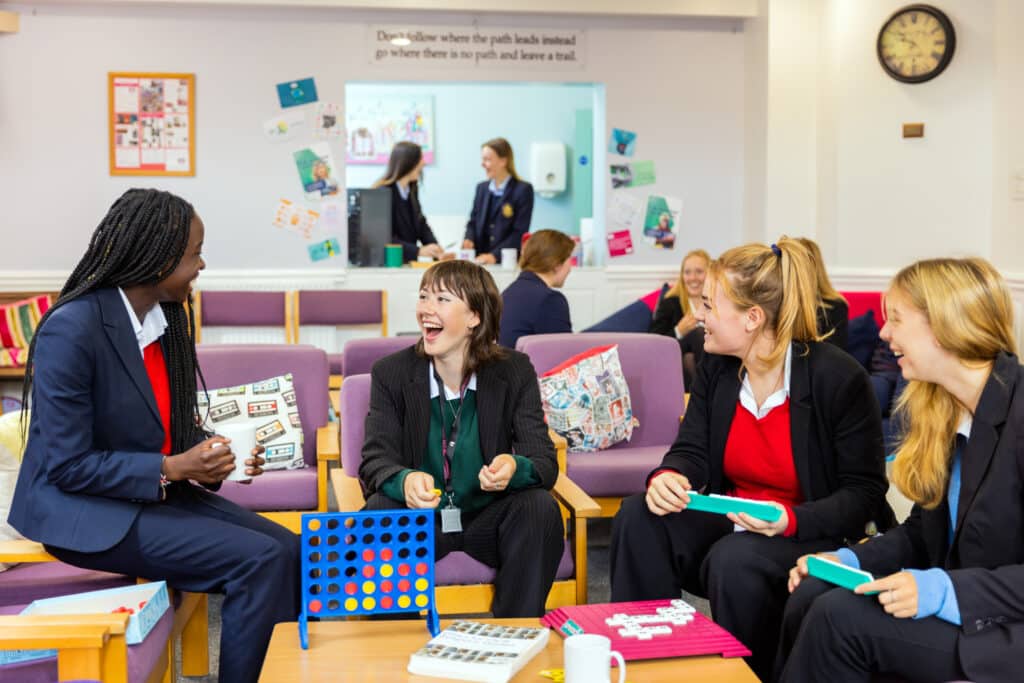 'Flexibility makes it what it is,' said one parent. Boarding can be full or weekly and there's odd nights in for day pupils in Arnold Lodge; they really cater for all, with some obligatory community weekends in ('a good thing,' said a parent).
Matches on Saturday afternoons, and trips on Sunday – Thorpe Park, Harry Potter World and the like.
Saturday nights on the town for upper sixth until 10.30pm. A two-drink limit, supposedly, but sensibly enforced – 'providing you're not wobbling or vomiting, no one's going to breathalyse you,' said a sixth former; they appreciate being treated as responsible human beings, and behave accordingly. 
Ethos and heritage
The thing about Eastbourne, said a parent, is that it's actually 'not that far'. It feels like a peaceful backwater, but is only an hour and half away from London, a seaside town with its broad streets and bracing air. EC was described by a parent as having 'a public school, traditional feeling'; there are old flint buildings that fit this description nicely, but it is an indisputably modern school, with new classrooms and sports facilities to prove it. Popular new Wifi café and a new Futures Centre too.
One parent chose EC because of its intimate size: 'It feels like a close family. Everyone knows each other.' The head describes a 'confident, calm community' where there is space for fun, and this seemed almost exactly right. There's chatter, but no rowdiness (though year 10 can be a bit wild, say sixth formers; 'that was a good year,' said a year 11 nostalgically). There is a feeling of competence and organisation, pupils who know where they're going and what they're doing. 'Both girls feel quite special being there… If it wasn't warm, relaxed and efficient, they wouldn't cope with the long days,' said a parent.
The pupils we met were friendly and unassuming; not much arrogance here, and it's difficult to imagine these modest pupils bragging about their achievements (might need to practise a bit of this before those university interviews).
The school is part of the Eastbourne Schools Partnership, which involves local schools getting together to benefit all, activities ranging from digital workshops to community orchestras, and Roy's homework club, where EC sixth formers – and the head's dog – tutor struggling GCSE pupils from partner schools, with both tutor and tutee benefiting hugely.
House feeling is strong; houses are homes in a school with a boarding atmosphere, even for day pupils, and pupils go back to their houses during break times or free lessons. We saw a fantastic boys' day house, with table football, pool and ping pong, and thought the girls might like some of this in their houses too. The boys even had an Astro with floodlighting in the back garden for football. Apparently the girls do come over sometimes, and use it for hockey.
An active school council make members' voices heard: complaints about too-long lunch queues have led to staggered intake, and girls requested and voted for trousers, now part of the uniform.
'What's your favourite colour?' asked the head, and the ceiling of the smart new dining hall glowed red in response. The food consumed in it has 'massively improved', said a parent, and we hear fine things of breakfast – 'best meal of the day'. There's a café, which can be used by sixth formers during free lessons, bringing something of a university feel for the upper years.
Pastoral care, inclusivity and discipline
'Brilliant pastoral care,' said parent, 'tutors will call just to say how things are going', another parent telling us the school identified and told her about a problem with her daughter before she knew anything was wrong; this seems typical of this vigilant and proactive school.
Care begins in the houses, and parents report close relationships with housemistresses/masters, one describing a housemistress as 'very caring, very prompt in all queries, seeks opinion if unsettled. Really on top of things. Keeps things in proportion.' House structure can vary a bit, said one parent, whose son's current head of house is 'caring, but doesn't command respect'.
The non-hierarchical house structure promotes friends through the year groups, and this helps prevent bullying, say parents. 'Really like a family – what you want when you hand children over to an institution – [that they] have child's interests at heart.' One described a bullying incident – 'ragging' – dealt with thoroughly through the house system, and says small issues are efficiently dealt with this way.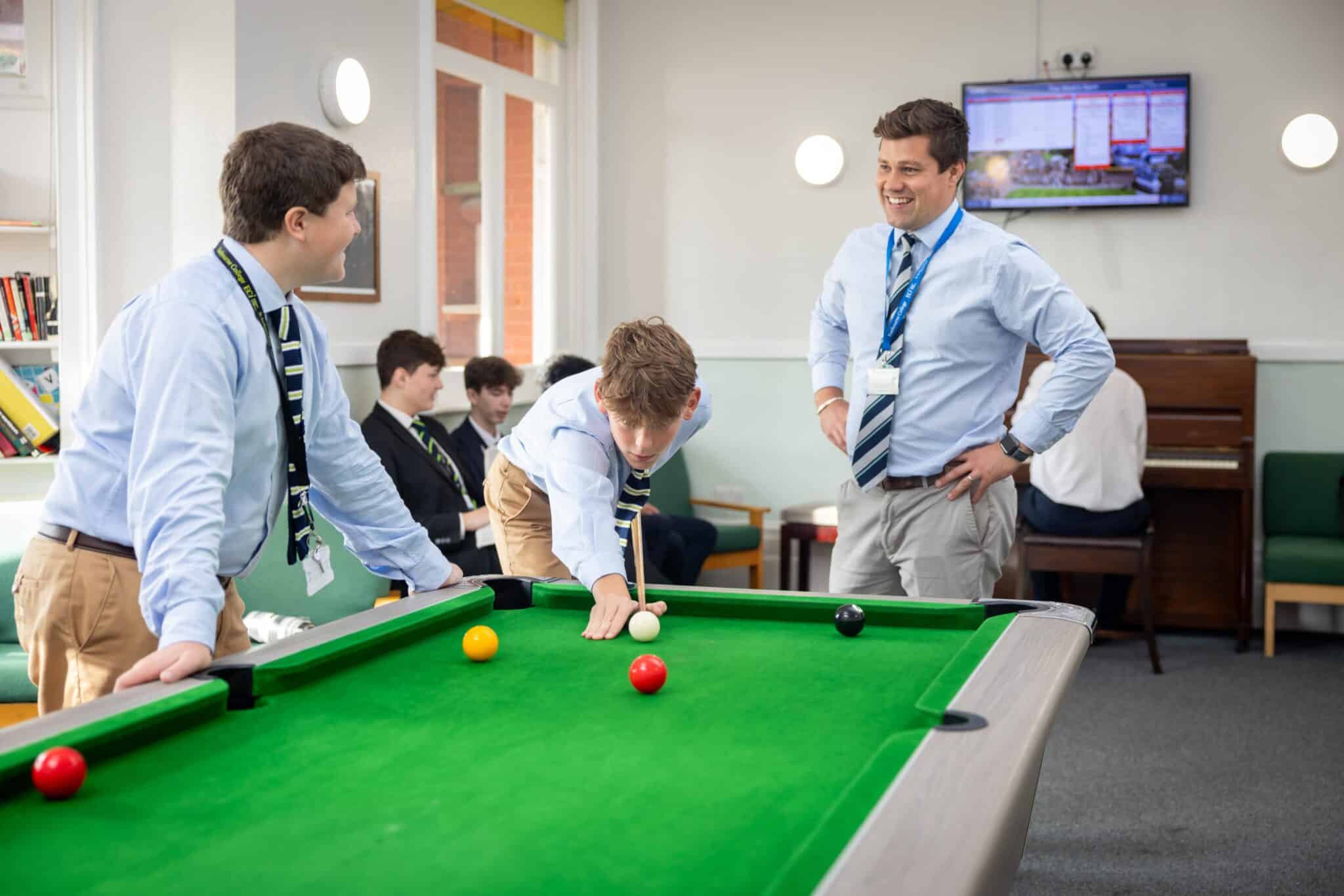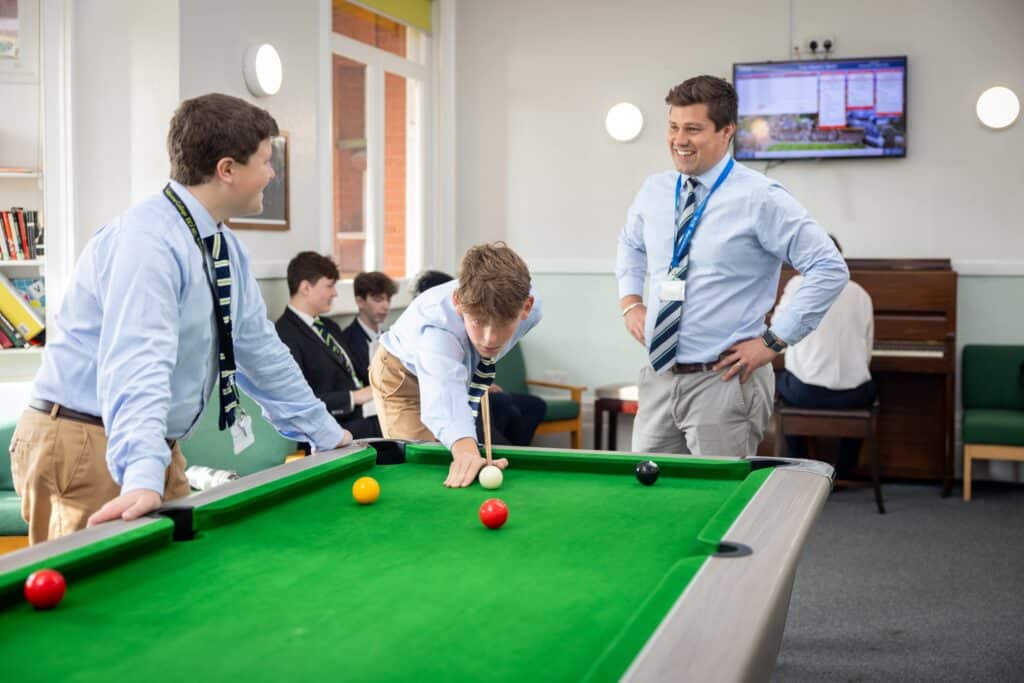 Certainly a school for second chances, agree head and pupils, a parent commenting that 'the school really makes the effort' to involve them in education about mental health for teens, and is 'very open about drink and drugs': drug users will have to submit to a testing regime, sellers will be out. 'It's more what goes on at home that is the problem,' says the head, who tells parents they have to develop a 'digital spine'. What happens out of school certainly counts, whether in uniform or not.
Pupils and parents
Mostly local middle-class professionals and quite a few old boys; 'down to earth parents,' said one. 'Everyone welcome,' said another, describing a parent community which is 'as strong as you want it to be'. An ex-state school parent said he 'sometimes feels like the hick cousin', but that his children have not felt this at all and settled easily.
Parents and pupils agree that it would suit a wide variety of children, and, said a parent, 'would sort out disruptive kids'. Lots of siblings at this family school. One parent chose it because she wanted mixed sex, mixed ability for her non-alpha oldest son, but has also found it right for her highly self-sufficient second son too.
Very efficient school buses, 'so many routes… bend over backwards to help'.
Money matters
Scholarships from five to 20 per cent of fees. Means-tested bursaries of up to 60 per cent.
The last word
This is a friendly, down-to-earth school which, as a parent said, 'thinks about the whole person… the roundedness of the individual'. Hard workers will thrive here, and relish the great opportunities available.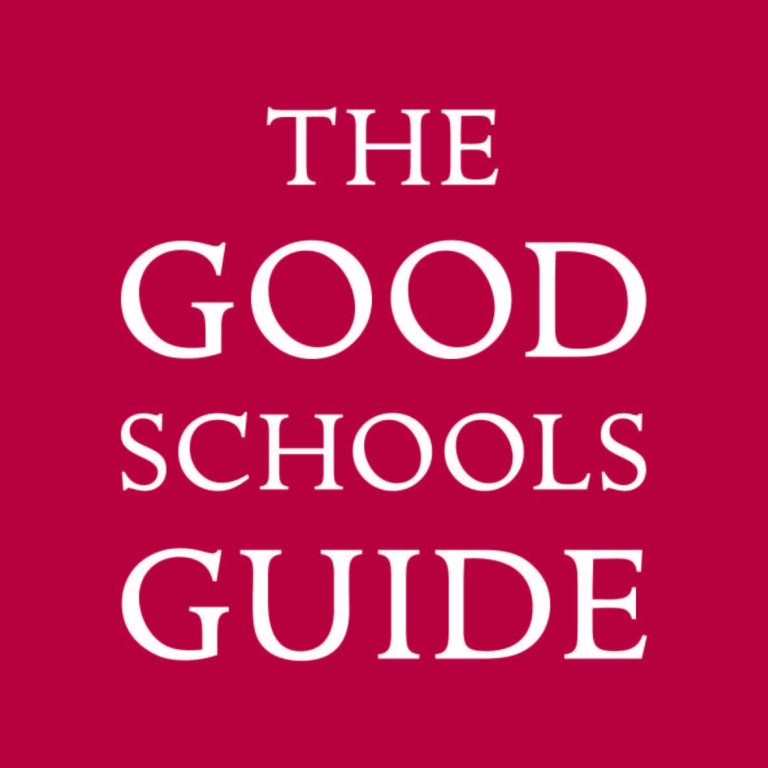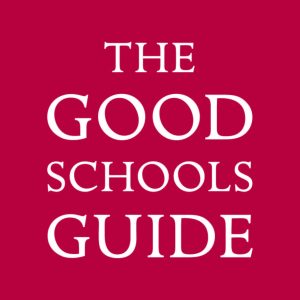 Read the report on the Good Schools Guide website