Experimenting, learning and creating
Art textiles is a popular subject at the College and offers both curricular and co-curricular opportunities to learn and experiment with new skills. The Textiles department is open during non-teaching time to support all pupils who wish to pursue their interest in this area.

Recent Projects
Gold Arts Award Fashion Show, January 2018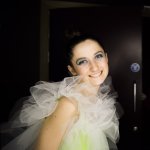 Gold Arts Award pupils Cece Plumptre and Martha Holt hosted an eco-couture fashion show. Items included garments sourced from charity shops and upcycled, costumes styled from the drama department's wardrobe and sustainable garments supplied by local independent retailer Twisted Willow. In addition the audience were treated to Cece Plumptre's fashion video featuring Cole Warren and Ceci Mann on Eastbourne's seafront.

Textiles is an integral part of the delivery of the Gold Arts Award.
Young Fashion Designer of the Year 2019
Textiles pupil Antoinette made it to the finals of the Young Fashion Designer of the Year competition with a stunning ballet costume for Juliet from Prokofiev's ballet Romeo and Juliet.
Artists Workshop, January 2017
In January 2017, local textile artist Christine Chester from Studio 11 and member of unFOLD group of textiles artist ran a series of workshops to explore mixed media and materials with textiles.
Textiles and Gold Arts Award, 2017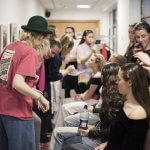 Once again, textiles was an integral part of the delivery of the Gold Arts Award with Lily Kelly's wonderful fashion and dance show in collaboration with Chloe Webster. Zara Poulton held a series of workshops at St Wilfrid's Hospice Crafty Friday making appliqued bunting and woven thread bracelets.
Graduate Fashion Week Trip
In June each year, Lower Sixth pupils visit Graduate Fashion Week at Truman Brewery, London. This is often paired with a current exhibition at the V&A or Fashion and Textiles museum.
Download our winter arts programme
(please note that the Community Carol Service will take place on Thursday 12 December. The Live Lounge is now on the 19 November and the Informal on the 5 November)

Follow the Creative Arts Instagram for updates