CCF Field Day Michaelmas term 2019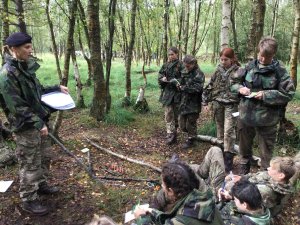 Self-reliance was the order of the day last week as forty Year 11 cadets spent a night in the Ashdown Forest sleeping under shelters of their own construction and feeding themselves from individual army ration packs. For most of our cadets, these remain novel circumstance to brave. To do so over such a very wet 24 hours developed, tested and revealed (for good or for ill) the character of each individual – and also of their sixth form NCOs, and new and established CCF staff alike.
Having set up their shelters and fed themselves, night missions pitted platoon against platoon as small teams of cadets used stealth, guile and the cover of darkness to approach and infiltrate the outskirts of each other's positions to retrieve hidden codes before returning to their own positions to attempt to sleep.
Morning saw the cadets embark in their sections on a rotation of daylight challenges: blank-firing Section Battle Drills; a Survival activity made all the more pertinent by the day's obliging abundance of wind and rain; an Orders instructional activity that brought home the importance of a good map model and clear delivery when giving formal military orders; and an Orienteering session that demanded enthusiasm and speed as well as navigational ability.
All cadets returned from the challenge on good form, tired but not subdued, their officers pleased with all that had been achieved.