CCF Inspection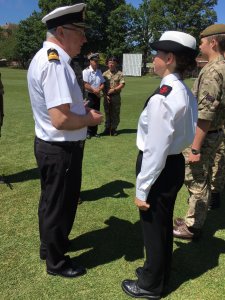 On Monday, the Combined Cadet Force welcomed back two of its former members. Rear Admiral Chris Gardner CBE and Captain Nick MacDonald-Robinson (RN) visited the College to formally inspect the CCF on behalf of the Ministry of Defence. Both Old Eastbournians are senior serving officers in the Royal Navy, with 34 and 33 years' service respectively.
For the first time in many years, biennial inspection took place in Eastbourne rather than out in the field. The whole of Year 10, their accompanying officers and Cadet NCOs, and the Ratton School detachment were on parade ahead of an extended training afternoon. Our inspecting officers were greeted by an immaculate guard of honour made up of members of the Royal Navy Section, who gave the salute with some very crisp rifle drill. The Admiral presented promotions to six Cadet NCOs from the lower sixth who are moving into key leadership roles as the College's Senior Cadets for next year. These were: Chief Petty Officer Isabelle Newton, who will head the RN Section; Colour Sergeant Thomas Stewart-Blacker and Sergeants William Alston, Oscar Boulter and Nikita Malkov, who shall share responsibilities within the Army Section; and Sergeant Abigail McNally, who is to lead the RAF Section. Admiral Gardner addressed the parade briefly, encouraging the cadets to see that (whatever their individual ambitions) the skills gained through this particular co-curricular activity can equip them well for success within the society beyond the school's gates.
Following the formal parade, groups of cadets dispersed to participate in a variety of cadet activities. Just off the seafront, and against a backdrop of blue skies, the Royal Navy Section undertook water sports. The Army Section tackled a communication challenge, micronavigation, a mobile climbing tower, skill at arms, as well as campcraft, an observation lane, air rifle shooting, and paintball target shooting. The Royal Air Force Section experienced a virtual reality flight simulator, and put their minds to designing model gliders before test-flying their creations in the wonderful indoor airspace of the new Winn building sports hall. It was an enjoyable, impressive and successful afternoon for the cadets, for the inspecting officers, and for the CCF as a whole.