Clare Balding's steps to success
In the final instalment of three pupil write-ups, sixth former Charlotte Imbert reports on the once-in-a-lifetime opportunity she had to interview one of the greats of British and international sports journalism, Clare Balding. The College was delighted to have this opportunity which would not have happened had it not been for Clare's generosity and genuine interest in inspiring the next generation. Charlotte's write-up focuses on 'steps to success' in the world of sports journalism.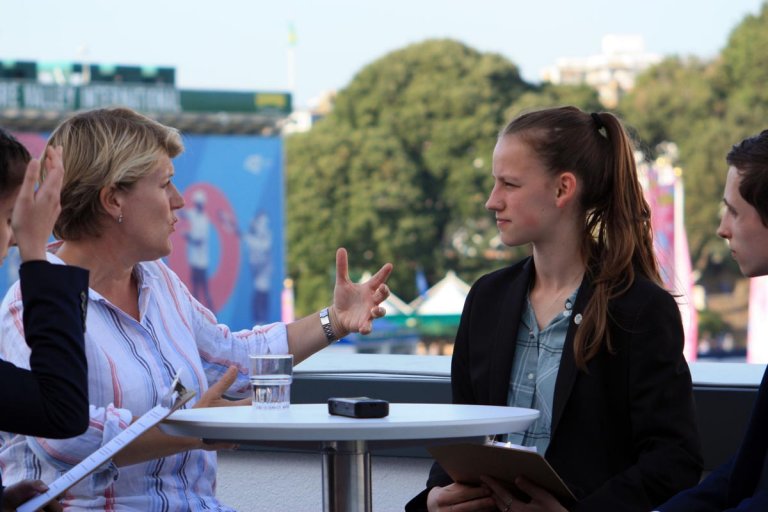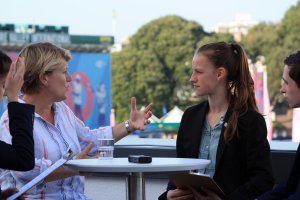 As an avid tennis fan, having grown up watching Clare presenting Today at Wimbledon, I was delighted to have the opportunity to interview her.
Any nerves we may have had before the interview soon faded as Clare was very approachable and the interview took on a conversational tone. As a broadcaster and journalist with years of experience in the sports sector, Clare has witnessed many a sporting event, so I was curious to know which was the most memorable to her. Without hesitating, she chose the London 2012 Olympics, singling out some of Team GB's triumphs, like Andy Murray's tennis gold medal, Jessica Ennis' heptathlon win, and Charlotte Dujardin's dressage gold medal. This filled the four of us with nostalgia as we reminisced on that brilliant summer that united the nation.
Continuing on the interview's sporting theme, I asked Clare who she thought were the dark horses to watch out for at Wimbledon this year. Her extensive tennis knowledge was on show as she chose Felix Auger-Aliassime and Coco Gauff, two teenagers who produced excellent results at the Championships the following week. Clare also told us that she would love Ashleigh Barty and Roger Federer to win the singles titles, which I loved hearing as a big fan of both players.
Clare also showed great interest in our future plans, and shared some of her wisdom when I told her of my interest in working in the sports media. She gave me three suggestions: to attend any accessible professional sports events, such as the Nature Valley International tennis tournament, (fittingly taking place in the background of our interview); and make the most of the proximity to the action to write up reports, using quotes from on-court interviews. She also stressed the importance of using the internet to share my work, a resource that was less accessible and widespread when she was an up-and-coming journalist.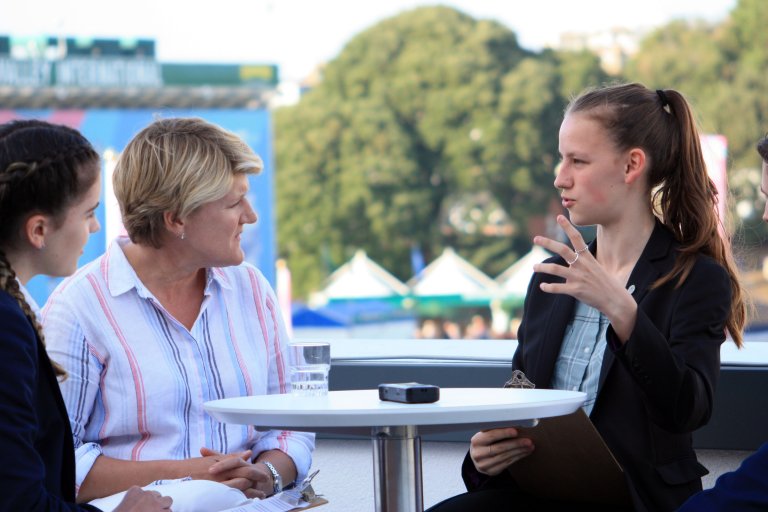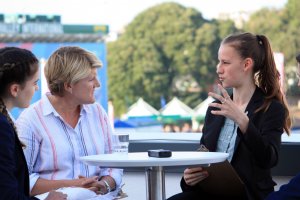 Her final suggestion was to get involved in paid work for a local newspaper and to then gradually work my way up from there. She said that I should try to receive accreditation to work in the press office at various sporting events, and was happy to hear that I was working in the press office at the Nature Valley International at the time of the interview.
What I admired the most during the interview was the assertiveness and confidence that Clare had when speaking, which are traits essential for success in any career and that we should all learn to practice. The three of us found Clare to be a very encouraging and inspiring woman and we felt very thankful that she made time for us despite her hectic schedule which sees her move from one sporting event to the next in quick succession.
To have received the advice and support of such a successful, intelligent and highly respected woman has motivated me to keep working hard towards a career in the sports media industry.