College cricket stronger than ever
As the 12th edition of the Cricket World Cup gets underway and England post a decisive victory over South Africa (winning by 104 runs), the College reflects on a season of firsts and a cricket culture that keeps on giving.
In 1867, when Eastbourne College was founded, the mid-nineteenth century philosophy of muscular Christianity was still sweeping across the world, its greatest advocates being British independent schools who saw it as a way to instil a healthy and moral approach to learning. At that time, College cricket was little more than an occasional competitive gathering organised almost entirely by the pupils. The cricket pitch, which has always doubled as the College's primary rugby venue, was poorly drained, uneven and prone to flooding at one end. Then things improved.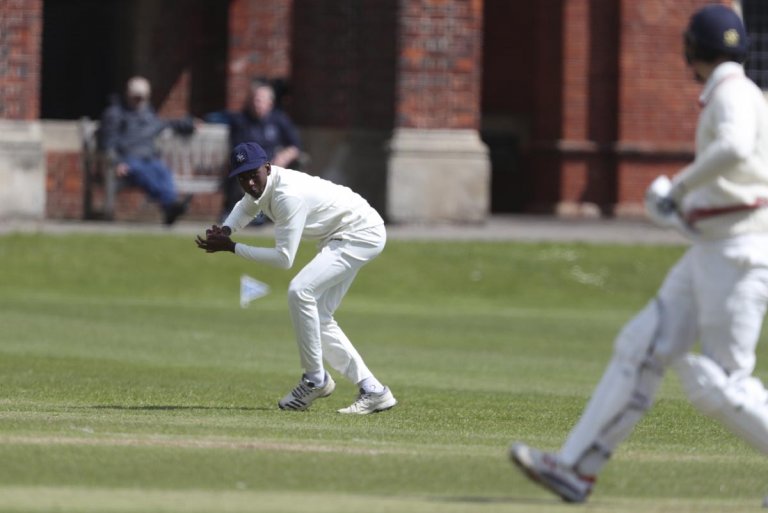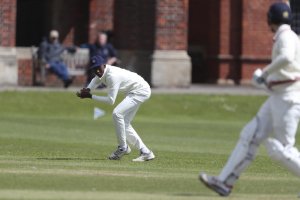 A new cohort of younger school masters arrived in the late nineteenth century. Brought up on a diet of healthy pursuits and fizzing with new ideas, they flooded the education system, taking responsibility for ground maintenance and timetabling regular organised competitive sport. At the same time, professionalism in sport was on the rise (along with improvements in technology) and the College took the enlightened decision to appoint cricket professionals to boost provision for the pupils.
From 1920 to the present day, College pupils have benefited from able teachers willing to give their energy, expertise and time, and the input of playing legends such as Maurice Tate (England Test cricketer), Frank Quaife (Sussex CCC, first class), Ted James (Sussex CCC, first class), John Shepherd (West Indies test cricketer, Kent and Gloucestershire CCCs and Wisden Cricketer of the Year, 1979), Deon Kotzé (Namibian one-day international cricketer, World Cup in 2003) and Andy Waller (Zimbabwe Test and one-day international cricketer).
Fast-forward to the present day and the College cricket programme is stronger than ever. Catapulted into the big leagues partly by Director of Cricket Rob Ferley (Kent and Notts CCC), and partly due to extensive investment in school facilities and equipment, cricket (along with other sports) received the leg-up it needed to go to the next level. Project 150, a £33 million redevelopment completed in 2018, has transformed the provision for sport, and cricket has gone from what ex-master Nigel Wheeler once described as 'organised loafing', to cutting edge proactivity.
Talented players now have access to a year-round programme including full run-up indoor cricket nets, Pitchvision video analysis, a Merlyn bowling machine (among others), one-to-one coaching schedules, strength and conditioning and movement specialists, and the expertise of current cricket professionals Andy Hodd (wicket-keeper for Sussex and Yorkshire CCCs, and England in 2012) and James Tredwell, the popular Kent county player who recently retired from the England one-day and T20 arena after a successful 18-year career (including three World Cups).
Rob Ferley, who recently engaged professors of neuroscience from the US to develop a cricket app that players of all abilities can use to enhance their decision-making, expresses his admiration for the bold steps the College has taken in its quest to fulfil its key value, pursuit of excellence.
'The best thing about all of this is the virtuous circles it has created for our boys and girls. There is a trickle-down effect through the ability and age groups, raising the bar for everyone and providing all players with elite pupil role-models within the school's cricket community. What's more, we are now in a position to support players to a standard required at county and national level.'
The role models that he talks about are becoming more numerous as the results of innovation and investment in cricket at the College begin to bear fruit. Tawanda Muyeye, a 1st XI cricketer, broke 150 years of school records in May for recording his second double-century, a first for a College pupil. Even more remarkably, he scored it off just 135 balls, with 10 fours and 17 sixes; the most sixes ever hit by a player in one innings. To top it all, he made the fastest ever 150 and double-century. Better still, and representative of the upsurge in the depth of talent being nurtured at the College, it was more than a one man show that day.
It is not often that you witness a sea change in an organisation. In terms of cricket and sport, the last one at Eastbourne College arguably occurred nearly 100 years ago. Now, thanks to the efforts of enthusiastic, knowledgeable and innovative Eastbournians, a new narrative is being woven into the gloves and pads of the school's cricketing culture, one that folks one hundred years hence might also respect as transformative.