Donald Perrens celebrates his 100th
Wg Cdr Donald Perrens DSO OBE DFC was 100 on 1 January, and yesterday he enjoyed a special celebratory lunch at the College as the guest of Headmaster Tom Lawson and his wife Jess.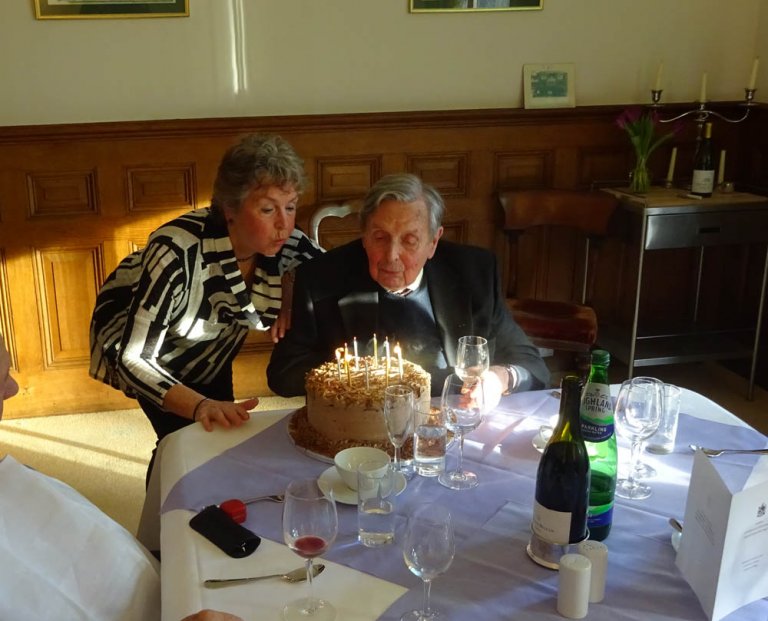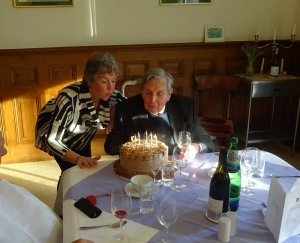 He is pictured here, with the help of his daughter Pip Kirtley, blowing out the ten candles (one for each decade!) on his birthday cake.
The Eastbournian Society were delighted to pass on a large number of cards and congratulatory emails that had been received in the ES office from Old Eastbournians and former staff worldwide.
Donald was appointed to the College staff by Headmaster John Nugee in 1939 but the Second World War intervened before he could finally take up his post in 1946. He was on the staff until 1981, during which time he ran the RAF section of the CCF before becoming commanding officer in 1954. He was also at various times head of science, housemaster of Blackwater, acting headmaster and second master in the early 1970s, as well as a coach for tennis and hockey.
In the war Donald was initially commissioned into the Suffolk Regiment in 1940 and posted to France with the British Expeditionary Force, but managed to escape on one of the last allied boats to leave Cherbourg. By November 1941 he had transferred to the Royal Air Force and, after basic flying training, went with 225 Squadron to North Africa, where he provided reconnaissance support during the Tunisian campaign.
Later the squadron moved to Sicily, then by the winter of 1944-45 he was flying Spitfires with 208 Squadron, based near Florence. During a reconnaissance mission near Bologna Donald's plane was hit by enemy fire and he managed to crash-land in the allies' forward defence lines, where he was dragged from the wreckage with a fractured spine and skull. After hospital treatment he returned to operational duty in March 1945, shortly before the end of the war.
Donald has been a regular visitor to the College in recent years and has been particularly interested in the Project 150 development, the culmination of many changes he has witnessed in his 80-year association with the school.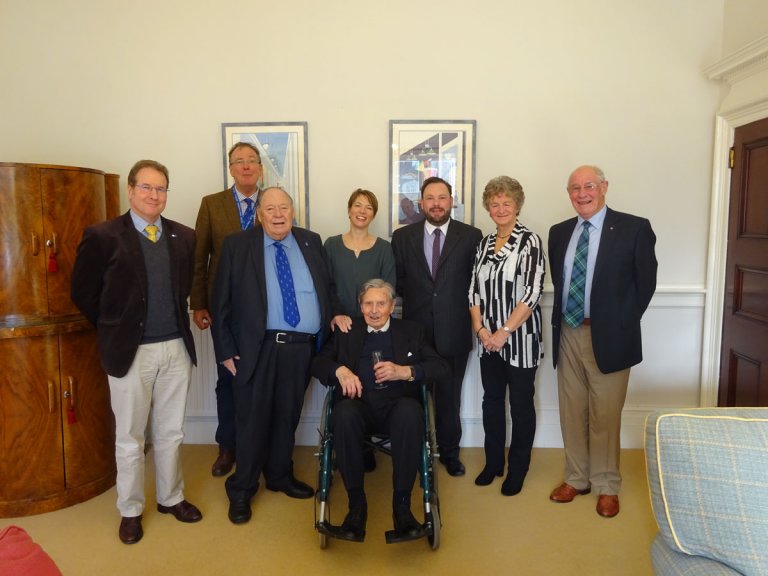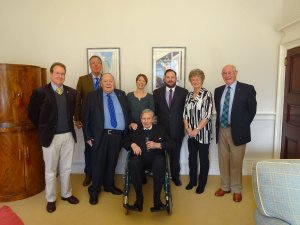 Present at the lunch and pictured here, left to right, with Donald at the front, are Col Anthony Lamb MBE DL VR, Contingent Commander of the CCF; David Stewart, Director of the Eastbournian Society; David Winn OBE (School 1954-59), President of the Eastbournian Society; Jess Lawson; Headmaster Tom Lawson; Pip Kirtley; and Forbes Wastie MBE, College staff 1961-98 and Contingent Commander of the CCF 1968-73.