Eastbournian Society London dinner 2019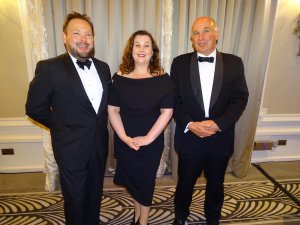 Old Eastbournian and actress Patti Clare and long-serving English teacher Paul Lowden were the guests of honour at the Eastbournian Society's annual London dinner on Monday evening, held at the Waldorf Hotel in London. The evening was an opportunity for us to recognise Eastbournian achievement.
Nigel Wheeler recounted Paul's 32-year career at the College, during which he has served as Head of English, housemaster of both Pennell and Blackwater houses, coached numerous sports teams and director of many a school drama production. Paul responded with an amusing speech in which he remembered the four headmasters under which he had served, describing each in the style of the James Bond actor which he felt they most resembled.
Headmaster Tom Lawson thanked the guests for their loyalty and support of the College in what is the 50th anniversary year of girls first joining the school in 1968-69. In particular he paid tribute to David Winn OBE (School 1954-59), the College's greatest living benefactor, who has made a further very generous donation towards bursary funding.  Following the dinner, Patti Clare spoke about her College days with great affection,  and finished with the observation that for her and her contemporaries, the teachers at the College had always given them the encouragement to flourish, a sentiment which was much appreciated by the guests.