New stained glass windows in the Winn Building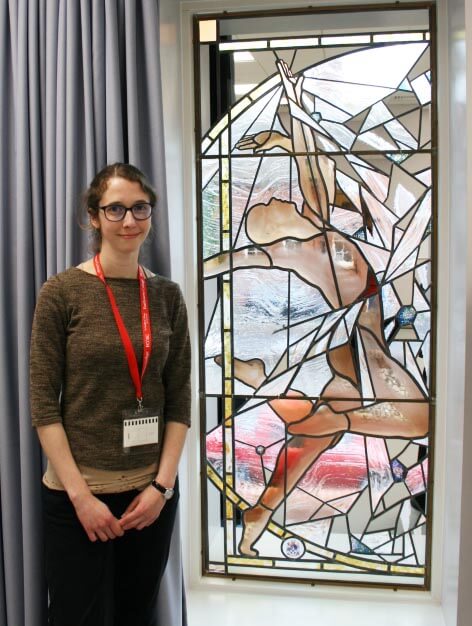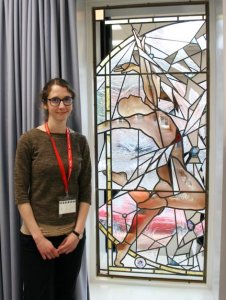 Our brand new Winn Building is now proudly displaying two stunning stained glass windows. The artist behind the design is Jessica Lambinet, an artist very much in demand in her native France, who was the overseas winner of the prestigious Stevens Competition for Architectural Glass. Organised by the Worshipful Company of Glaziers, the international competition rewards the best design for newly commissioned stained glass by students and emerging architectural glass artists. This year, Eastbourne College was honoured to be selected as the location for the windows. Entrants were asked to design two windows for our new dance studio, to mark the 150th anniversary of the College. The installation of the commission has been sponsored by the Arnold Embellishers, a Society of friends of the College dedicated to enhancing its beauty and dignity.
Jessica took inspiration from the 'Canon of Proportions', Da Vinci's Vitruvian Man. She then used dancer models to create her version of the geometric human forms. The manufacturing of the windows took Jessica six weeks, and she was supported by award-winning Barley Studio.
The delicate works of art were transported by Jessica very carefully all the way from Paris, where she produced them. Leading the installation was Keith Barley MBE, from Barley Studio. Keith is an internationally renowned stained glass conservator. He was awarded the MBE in in 2015 'for service to cultural restoration and conservation', in particular for his work at St Mary's Church, Fairford. Keith is also Master Glazier for Ely Cathedral and has consulted for the Metropolitan Museum of Art, the Museum of Fine Art, Boston and the Cathedral of Sienna.
In one of her visits to the College with her mentor Helen Whittaker, Jessica was also inspired by the stained glass windows in the College Chapel, which were created by Mary Lowndes, an influential women's leader in arts and crafts. Jessica's work is now displayed in our dance studio, and is also visible from outside Reception on Old Wish Road.