One for the record books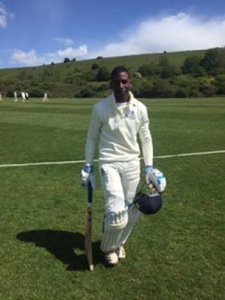 School records tumbled in the 1st XI cricket match versus Brighton College at the weekend with a huge 254 run win. According to the score books,  it is the first time a College 1st XI team have notched up over 400 runs in an innings in 151 years of cricket as they plundered the opposition bowling and finished on 402-4 off 50 overs. Many congratulations to Tawanda Muyeye for recording his second double hundred for the College, having scored one last year. This is a first for a College pupil.
Even more remarkable was he scored it off just 135 balls with 10 fours and seventeen sixes. This is the fastest 150 and double hundred ever scored, the most sixes hit by a player in one innings and all of this having been given a reprieve having been dropped first ball. Fiontan Logan scored 93 off 75 balls in support plus Oli Carter 44 and Joe Pocklington hitting 23 off 10 balls at the end. In reply the opposing team were bowled out for 148 with Will Lucas the pick of the bowlers with 4 for 35.