Boarding Orchard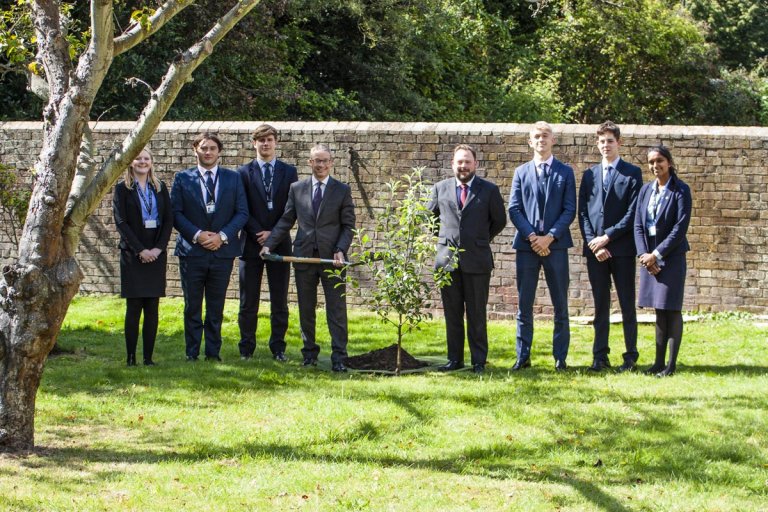 Yesterday, Eastbourne College joined the Boarding School Association's (BSA) 'Boarding Orchard' initiative.
The project, launched by the BSA in 2014, aims to create the largest orchard, by distance, in the UK and involves boarding schools (independent and maintained) planting fruit trees in their grounds. The trees symbolise the 'tree of knowledge' and demonstrate each school's commitment to growth and caring for the environment. Well over one hundred schools have taken part so far, with schools planting trees in several countries, including mainland UK, Northern Ireland, Switzerland and the US.
Chief Executive of the BSA, Robin Fletcher, visited the College to help spread news of the proliferation of good quality modern boarding schools and the global reach of the Boarding Orchard. Robin himself was a boarder at Rugby School before moving on to become a journalist, award-winning newspaper editor, plc communications director and business owner.
Helping him plant the tree (in the Bursary garden) were a number of appointed Heads of School (head boy, head girl and prefects), Headmaster Tom Lawson and Second Master Cris Symes.
The fruit tree planted at the College is an apple tree of the Cox's Orange Pippin variety, highly regarded by connoisseurs as having excellent flavour and an attractive appearance. With plenty of light, some tutoring and regular feeding, we expect the tree to flourish in the years to come; much like our pupils.