Tawanda wins Wisden Schools Cricketer of the Year!
Eastbourne College sixth former and cricket sensation, Tawanda Muyeye, joins an exclusive list as the Wisden Schools Cricketer of the Year for 2019. The announcement made today means Muyeye becomes the thirteenth winner of the title since the inception of the award in 2007. He is also the first Eastbournian to do so, hailing a new era for the College as the cricket programme's reputaton for developing world-class players expands.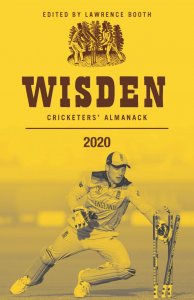 Wisden has long carried details of schools cricket. As far back as 1865, the second edition included an account of the previous year's Eton v Harrow match. These days the coverage runs to around 200 schools over 40 pages.
In 2008, Wisden introduced a new award, the Wisden Schools Cricketer of the Year. The aim was to help raise the profile of schools cricket, especially at state schools.
Well over half of the previous winners of the Schools category have gone on to play first-class cricket and a handful represent their country on the international circuit (list below, courtesy of Wisden).
The 2020 edition of Wisden Cricketers' Almanack (which is published on April 9) says of Tawanda:
Rob Ferley, his coach at the College, says he is also the best off-spinner of his age group in the county, as well as an electric fielder with exceptional hand-eye co-ordination. But it is the reliability of his fast, wristy run-scoring that has given Sussex cause to be interested in his development, and makes him such an exciting prospect.
Muyeye's most recent of accolades comes as no surprise to Eastbournians who flock to the iconic College Field track of a summer Saturday afternoon, waiting for the next ball to go airborne over the boundary; some are lucky enough to have witnessed a Muyeye-struck flyer soar over the 80ft high Memorial building or break a local boarding house roof tile across the road… and this against some of the best age-group bowlers the southeast has to offer.
Tawanda ended the 2019 season on a high, breaking two longstanding school records and collecting his school's coveted Simon Green Cup for Endeavour award, prompting the Second Master to say of him:
The record he spoke of was well over 1000 runs!
What more can we say? Where Tawanda Muyeye is concerned, it is a question of "watch this space!"
find out what wisden reporter ben gardner had to say about tawanda muyeye
---
Wisden Schools Cricketer of the Year in chronological order
2007 J. M. Bairstow (St Peter's School, York, Yorkshire & England) 
2008 J. W. A. Taylor (Shrewsbury School, Leicestershire, Nottinghamshire & England) 
2009 J. C. Buttler (King's College, Taunton, Somerset, Lancashire & England) 
2010 W. G. R. Vanderspar (Eton College & Middlesex) 
2011 D. J. Bell-Drummond (Millfield School & Kent) 
2012 T. B. Abell (Taunton School & Somerset) 
2013 T. Köhler-Cadmore (Malvern College, Worcestershire & Yorkshire)
2014 D. E. Budge (Woodhouse Grove School & Durham)
2015 B. A. Waring (Felsted School & Essex)
2016 A. J. Woodland (St Edward's School)
2017 E. T. D Casterton (RGS, High Wycombe)
2018 N. J. Tilley (Reed's School)
2019 T. S. Muyeye (Eastbourne College)