ESP pupils meet Lord Agnew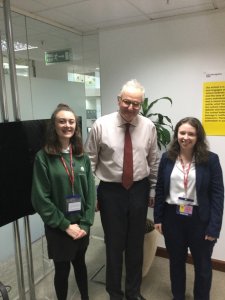 Upper Sixth pupil Helena accompanied Mrs Salway and Mr Marlow to meet Lord Agnew, Under Secretary of State at the Department of Education, on Wednesday 23 January. They were also joined by Georgia, the Year 11 pupil from Willingdon Community School whom Helena mentors in the weekly Homework Club, offering her support in her studies towards her English GCSE exam. The Minister was interested to learn how much both Georgia and Helena gain from the mentoring programme, and felt this was an excellent example of how schools in a partnership can work together for the mutual benefit of their pupils. Eastbourne College has been short-listed for the 2019 TES Independent Schools Partnership award.
Georgia and Helena both spoke to the Minister about the homework club, and Georgia was gracious and eloquent when asked about how it helped her English. Helena also said how much she gained from the experience of helping out in the mentoring programme. Both girls were excellent ambassadors for both schools.
Read more about our partnerships here.