German A-level / GCSE trip to Munich 2020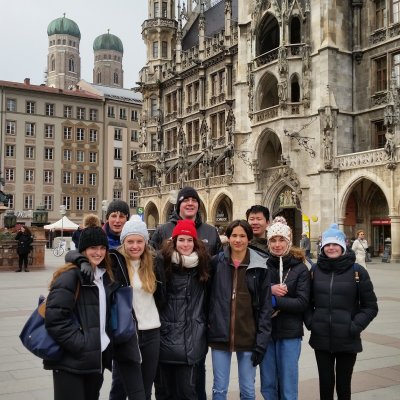 GCSE and A-level languages pupils enjoyed a five-day German trip to Munich. The trip began with a guided tour of the town (albeit a bit cold) and intensive language tuition from students at the University of Munich.
The final days in Munich involved a visit to a German school, where pupils took part in various lessons, including politics, during which they were quizzed over Brexit.
A visit to a local cinema to watch a film (all auf Deutsch natürlich) was welcome respite from the political discourse, as was the sojourn to the world-famous Hofbräuhaus, where 10,000 litres of beer are consumed daily.
Back to the core purpose of the trip and further language tuition ensued, followed by trips to the Olympic stadium, BMW world, the Deutsches Museum, and the sobering Nazi Documention Centre.
The pupils and staff enjoyed plenty of delicious traditional German food and ample opportunities for cultural enrichment.
They arrived home on Sunday night eagerly awaiting their next German lesson in order to put their new language skills to good use. Many thanks to Ms Burford and Mr Ruskin for taking them. Click on the image thumbnails below to see in full size.