MUN Oxford Global Conference 2019
Last weekend, 16 pupils travelled to Oxford to take part in the Model United Nations (MUN) Oxford Global Conference 2019. Along with over 750 delegates from Asia, Europe and North America, College pupils excelled, and some picked up awards and mentions.
where?
The MUN Oxford Global Conference 2019 is held at Oxford University, hosted in some of the university's most venerated venues, including the Sheldonian Theatre and the Examination Schools.
who?
College delegates included: Will Brown, Jacob Barlow, Lewis Buckle, Eleanor Daniels, Abi Disu, Jake Ellwood, Stella Grover, Ciara Ings, Alastair Kent, Arthur Lewis, Karina Matei, Tom Meek, Isabel Stead, M. Tambyrajah, Oliver Van Noort, and Cameron Wallace Carville.
why Model United Nations?
The MUN is an activity that fosters skills such as debate, diplomacy, and interpersonal skills. Our pupils spent weeks diligently researching their assigned country and topic to prepare for the conference. Debating and public speaking are part of the 'whole-of-learning' approach that we feel is so important if young people are to be prepared for the diverse and dynamic landscape of life beyond education. Involvement in events such as these also create positive feedback loops for pupils preparing for A-levels in subjects like Business and Economics and Politics, and there are many other cross-curricular applications.
What happened?
Pupils spent the weekend in their respective committees engaging in debates on their topics and attempting to pass resolutions to address challenges facing the global community. Pupils also had to respond to a surprise international crises that arose during their committee, testing their ability to think quickly and pass effective resolutions in the face of an immediate crisis. Committee topics ranged from Disarmament and International Security to the United Nations Office for Outer Space Affairs. More information on the variety of committees represented here. 
how did the college fare?
Everyone did really well, speaking in committees and working to get their resolutions passed or contributing to resolutions authored by other delegates.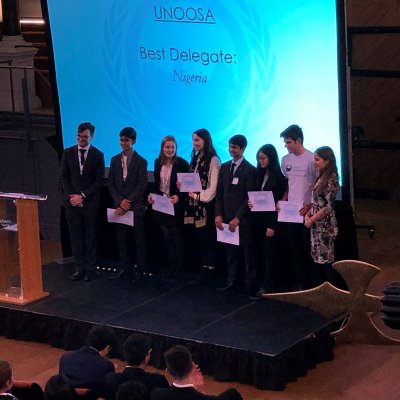 Pictured left: Jake Ellwood was awarded an honourable mention for Best Position Paper and Karina Matei passed her resolution.
find out more about model united nations here!
Ian Gow Memorial
They say that success breeds success and 'they' are not wrong… last week, three Year 9 pupils took part in the Ian Gow Memorial public speaking competition, placing second.
Congratulations to Zain Radwan, Missy Richardson and Ollie Tutt, and to the College's Graduate Debater in Residence, Yasmine Abi-Hannah!