National Tennis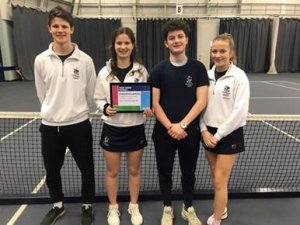 The mixed doubles tennis team travelled to the Bolton Arena tennis centre to contest the national finals over exeat weekend.  Matches were played on Saturday and Sunday and the team finished fifth nationally overall with a victory over Moulsham and losses to Lincoln Minster and Peter Symonds.
Both mixed doubles pairs fought hard with Nina Gewaltig  and Joe McIntyre winning three out of their six matches, and Katie McIntyre and James Young winning two. However, the matches that were lost were close affairs especially against eventual second placed team Lincoln Minster when, at one moment the scores were 5-4 30-15 and 5-5, only for the opposition to find the right shots on key points to win both sets and take a 2-0 lead.  
This is the second time in the last three years that we have reached a national final in this national schools event, designed for players with ratings of 7.1 or below rather than top county and national players with higher ratings.  
The team hope to return to the national finals in future years.