Oxford Schools Debate Finals Day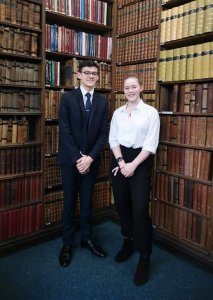 Upper sixth pupils Abby and Harry competed in the Oxford Schools Debate Finals Day hosted by the Oxford Union last weekend. Over 850 teams from across five continents had competed in the preceding weeks and 120 teams were invited for Finals Day. The College team were placed first in two of their four rounds.
Topics of debate included the sale and purchase of organs, politicians involved with terrorist organisations, the feminist movement rejecting the glorification of motherhood, and allowing migration from countries previously colonised. The standard of debate was very high and Abby and Harry performed superbly against other top teams.    
We are very proud of Abby and Harry for qualifying for the Oxford Finals Day and for representing the College so well.