Oxford Schools Regional Debate Competition 2019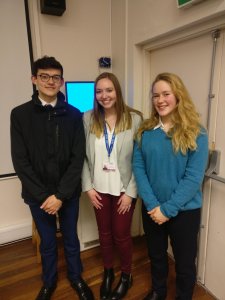 Four teams travelled to the Oxford Schools Regional Debate Competition on Thursday 7 February, accompanied by the College's Debater  in Residence. The team was formed by Abby, Harry, Johnson, Max, Oliver, Olivia, Raul and Yeouw. Congratulations to Abby and Harry who have advanced to the Oxford Finals.
Run by the Oxford Union, this is the biggest debating competition in the UK. Aimed at students aged 14 to 18, the competition offers young people an excellent chance to develop their skills and confidence in public speaking, thoughtful argumentation and analytical problem solving. Set up over 20 years ago as a British Parliamentary school-level debating competition, it aims to make debating accessible to pupils. Every year, over a thousand pupils and around 350 teams are invited to participate.
We are very proud of our debating team, who competed at the regional final rounds, and of Abby and Harry who have made it to the finals day, to be held in March at the historic Oxford Union.