Pupil-led masterclasses at St Andrew's Prep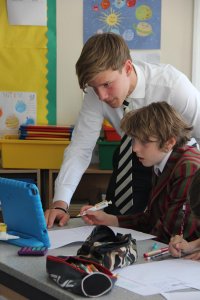 Six of our academic scholars in the Lower Sixth visited their former junior school, St Andrew's Prep, where they talked to Year 5 children and became 'teachers' of Science, Classics and English for a day.
While Ashraf, Chloe, Henry and Joseph worked on the theme of diseases in the biology lab, Sophie taught that poetry can be much more accessible than they may think, and Shaumya enthused the children with the Greek alphabet.
The St Andrew's Prep pupils were really inspired by their new 'teachers' for the afternoon and commented on how much fun it was. The Lower Sixth pupils even served as inspiration to some of the children to become teachers in the future.  
Henry, who is sitting chemistry, mathematics and physics at A Level, said, "It's so nice to have had the opportunity to come back to St Andrew's. It feels exactly the same and still oozes happiness and sunshine. It's a very special school."
Shaumya, who like Ashraf is applying to read medicine next year, said, "Between us we've project managed, used various teaching methods including games and online research, imparted our knowledge and, most of all, had fun with these great kids who seem really eager to learn. This has been a fantastic experience."