Simon Green Cup for Endeavour – Michaelmas 2019
The Simon Green Cup for Endeavour is awarded for endeavour in games though consistent commitment, effort and perseverance over the term.
The Second Master said:
With normally one or two winners in each term, there is often no recognition for pupils who have been shortlisted or recommended by staff for the award. This term, for their endeavour in sport, the following pupils should be recognised for their endeavour and should be proud of being shortlisted:
Billy Hipperson (2nd XV rugby, basketball and U18 national boxing champion)
Sam Anderson (1st XV rugby)
Theo Bevacqua (1st XV rugby (capt), Wales U18, Wales U20 and Cardiff Blues)
Riley Wootten (2nd XI hockey)
Eliza Reynolds (1st XI hockey and 1st VII netball)
Katie Nicholas (U15B hockey).
winner
Among this impressive shortlist one winner has been decided for their endeavour across two College sports. This individual has played for the College 3rd XV rugby during the season and trained every time he could, when not representing the College in the equestrian team or riding during the week. His commitment to his riding enabled him to become an equestrian individual national champion and gold medallist in October, a remarkable achievement.
His riding qualifiers and events take place on Sundays, which are long and full days and often take place after having played rugby the day before. Given his riding commitments, he could have easily taken a back seat in the Tigers' squad and decided to pick and choose his moments to get involved.
However, he has shown complete loyalty and a passion for the cause that is second to none. It is noticeable every time he trains or plays, the quality and intensity of the whole squad improves significantly. His voice is normally the first and loudest when it comes to rallying the troops, exhorting one and all to find the extra effort needed, setting the example and urging others to follow. He has adapted to get the most out of the limited training time available and relished the challenge of playing alongside those in the year above. His competitive edge, his bravery, positivity in adversity, and willingness to put the team's interest ahead of his own mark him out as obvious leadership material for next year. He embodies the true Tigers' tradition and spirit and everything the Simon Green Cup for Endeavour is about.
Congratulations to this term's deserved winner, Charlie Pincus.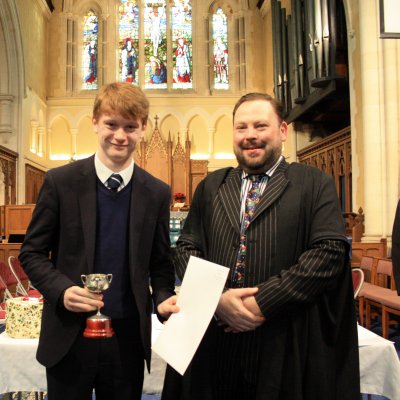 If you are interested in sport and want to know more about how Eastbourne College can help you pursue excellence, click/tap here.