Straight 9s at GCSE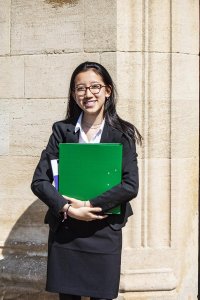 Eastbourne College pupil Tianlu Wang is the latest recipient of a 'clean sweep' of 9s and A*s at GCSE after the exam board reviewed her English literature and upgraded it from a strong grade 8.
Tianlu received the good news yesterday and in doing so joins the top 0.1% of 16 year olds in the UK to achieve the feat. Her perfect score was made all the more outstanding since she took no less than 13 GCSE subjects, including four languages (Chinese, Greek, Latin and Spanish), History, Geography and Music.
Tianlu's success comes at a time of great excitement for Eastbourne College who start the new academic year with a new tuned-up timetable and record pupil numbers. Overall, GCSE and A-level results increased again this year and Tianlu's grade 9 means that nearly 800 top grades (A* or A equivalent) were awarded for pupils who took exams in 2019.
Tianlu graduates to Eastbourne College's sixth form where she continues as a music scholar and commences A-levels in economics, further maths and history, among others.