The Simon Green Cup December 2018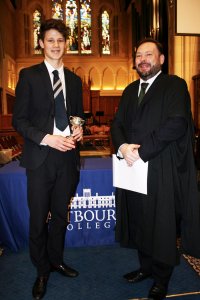 The Simon Green Cup is awarded for endeavour in games though consistent commitment, effort and perseverance over the last term. The Michaelmas term 2018 Simon Green Cup award was given to Upper Sixth pupil Joe McIntyre. This was presented at the Headmaster's Assembly on the final Friday of the term.
The award citation from the presentation which took place at the Headmaster's end-of-term assembly was as follows:
It is becoming increasingly difficult to identify one or two pupils who stand out above the crowd – so many of our pupils show what sporting endeavour is all about.
The recipient this term has been a great example to many. This pupil in question has not missed any training sessions and has shown themselves to be resilient, determined and committed. They have attended extra training sessions in a second sport and have even got involved in a match in a third sport. This individual has played in every 1st XV rugby fixture this term and has just been awarded the Buckland Award; has played in the LTA senior students national tennis competition and has contributed to the team moving towards the national finals next term; plus they have represented the squash team when needed. This person has taken full advantage of the sporting opportunities on offer,  they have so far played over 180 fixtures for the College and they will join an exclusive group of Eastbournians to enter the 200 club before they leave the College. He is a role model to others by example and is fully deserving of the award this term.
Headmaster, I present Joe McIntyre to you as the  winner of this term's Simon Green Cup for Endeavour.