A CENTRE OF EXCELLENCE 
The Art Department is housed in the Casson Art School, named after Old Eastbournian Sir Hugh Casson, the notable architect, interior designer and artist. Each member of the department specialises in different forms of art and design ranging from fine-art painting through photography and three-dimensional design, to graphic design.
Department Overview
The department enjoys exceptional facilities and strives to stimulate, encourage and sustain pupils' interest in the enjoyment of art. On the ground floor, the ceramic studio is equipped with two large kilns, drying rooms, glaze room, plaster studio and outdoor sculpture area, and a spraying room, while the large computer room offers an Apple computer suite with a variety of photo-manipulation and editing programmes, a photographic classroom, studio and dark room, and a light box for silkscreens and polymer etchings. On the second floor, there are three large painting and printmaking studios together with a well-stocked storeroom and a resource room.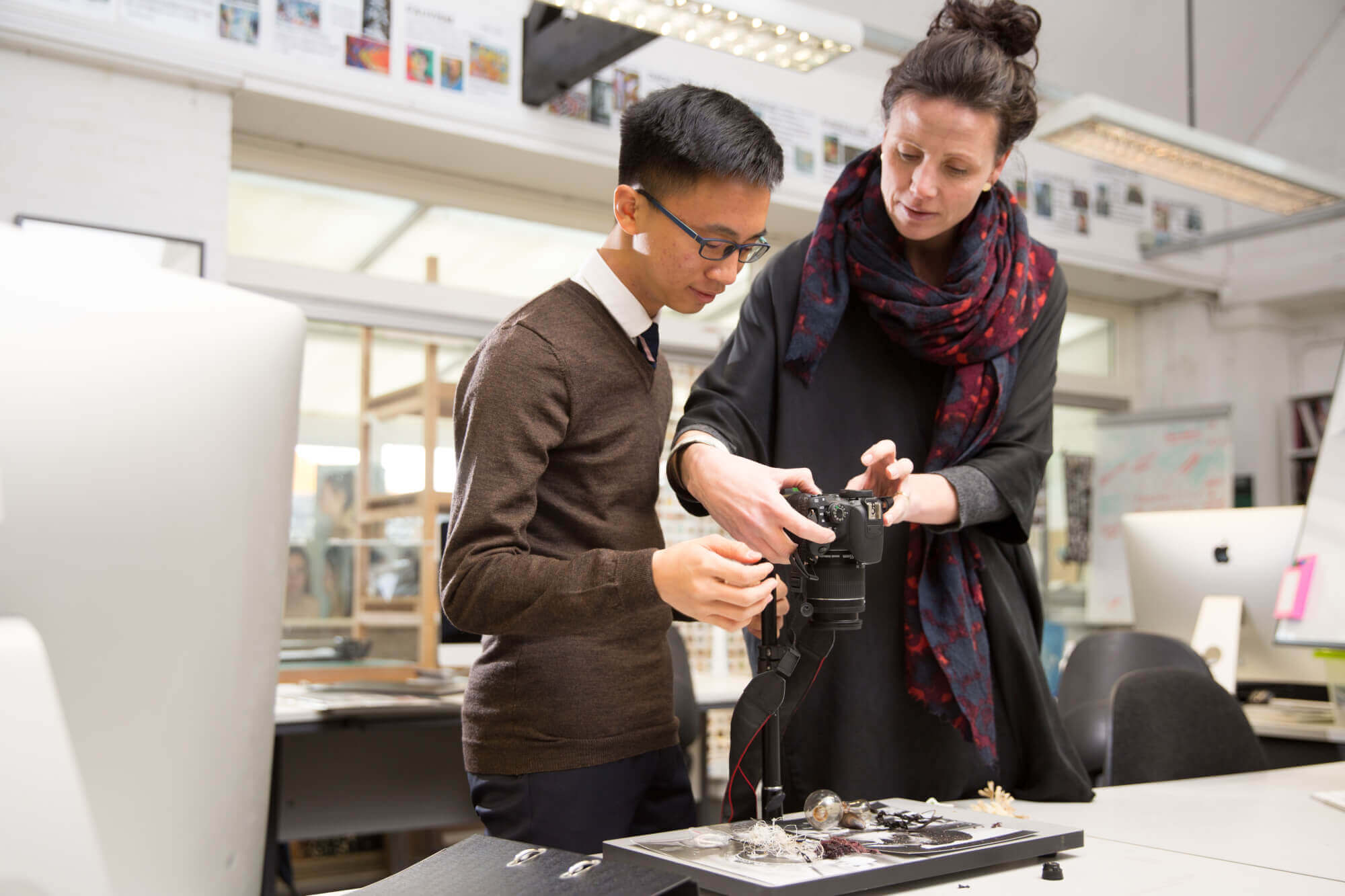 The Year 9 course introduces pupils to art and establishes core skills. Pupils study the formal qualities of art, colour, form, line, shape, texture and tone. They are introduced to a variety of techniques and art materials including ceramics, computer-generated imagery, painting, and printing.
During Year 10 pupils who have opted for art GCSE extend their skills to explore a theme through ceramics and then painting, while exploring drawing, photography and print. By the end of the year, these  pupils will have experience of painting in acrylic , oil and watercolours, drypoint, photography and adobe photoshop, slab and coil building in ceramics and will have learned how to analyse the work of artists and evaluate their own outcomes. 
In Year 11 pupils have freedom to develop their own ideas towards the GCSE exam using a range of their chosen medium but closely guided by their teacher to achieve the best possible results. 
The department is very proud of its outstanding exam success. All 2021 leavers pursuing creative paths secured offers to study fine art, design, photography, architecture, textiles, fashion and shoe design at their chosen university.

"The scale and ambition of many final examples was outstanding. It was a pleasure to moderate such a diverse range of exciting and imaginative work which takes place in this centre of excellence for art and design."   
Beyond the Classroom
The Art Department runs a large co-curricular programme to give access to our facilities and staff expertise. Pupils are encouraged to work in the department independently during any of the department opening times.
Year 9 pupils also have the chance to build large-scale ceramic pieces to display in the gardens around the College or explore ideas through photography. As part of the Gold Arts Award and gold Duke of Edinburgh's Award, pupils develop ideas for exhibitions with local galleries, conduct workshops with children, and explore darkroom photographic ideas. As part of the service and skills (S@S) programme, pupils have also painted murals for local schools.
We run extra sessions to prepare pupils for applying to art colleges and to ensure that they make the right choices. Every year we welcome a number of visiting speakers including university tutors and former pupils who share their experiences and help inform current pupils about the vast range of options available to them.
Gallery trips
Seeing art in the flesh is an invaluable learning experience and school trips to galleries are key to the success of our department. We are regular visitors to the Towner Gallery (a stone's throw from the Casson Art School) with all year groups who enjoy the evolving shows. We visit south-coast galleries including the De La Warr Pavilion, Jerwood, Pannett House, and Contemporary Sculpture at Goodwood. We run a GCSE visit to the London galleries and biennial residential trips for sixth form pupils. 
Exhibitions
Throughout the year we celebrate our pupils' achievements by showcasing outstanding work in the Birley Centre. There are two Year 9 shows, one in the  Birley Centre gallery and one in the Art School on Speech Day. For the senior school there is an exhibition of outstanding work from the previous year held during the Michaelmas term. Our final show in the Art Department for Speech Day always opens with a well-attended private view on the preceding Friday. Work by pupils from Year 9 to the Upper Sixth is displayed in a highly professional and successful show.
ARTS AWARD
The College also offers Arts Awards to give pupils an exciting new creative qualification. Sixth formers can follow a creative path in a number of different directions and whichever route they choose to follow, be it via art, dance, design, drama, music, photography or textiles, they are supported by an adviser and creative mentor. 
Local art groups
We have built connections with local arts groups who hold highly successful shows in both the Casson Gallery and the Donald Perrens Foyer in the Birley Centre. These artists also link with our pupils through their own exhibitions as well as through teaching evening sessions. This gives us the opportunity to display professional artists' work and share this with pupils.
A Level
GCSE