Piers O'Conor: step up, work hard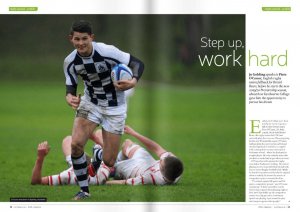 Former pupil Piers O'Conor has been interviewed in Independent School Sports magazine, in which he pays tribute to the opportunities he was given to develop his passion for rugby while at the College.
Piers, who is in his second year as fullback at Bristol Bears, says that the teaching staff were 'really supportive… they just wanted to better everyone there.' He was helped with extra activities such as gym and club rugby at weekends, and also focused on athletics as he knew that would help with his rugby fitness.
Commenting on the recent Project 150 development, Piers says that while facilities at the College are 'a hundred times better now', he really enjoyed his time at the College: 'I had a real opportunity and everything I needed. I'm thankful for the opportunities they gave me, from coaching to education.'
He says that the transition from school rugby to professional rugby took time, but that you have to adapt: 'You have to find the level, step up and work hard'.
The report concludes: 'With his sights set on England, O'Conor is undoubtedly one to watch in professional rugby, and Eastbourne College another example of an independent school helping young people go confidently towards their dreams'.
You can read the full interview here at the Independent School Sports website.