William Brown scoops Royal Geographical Society award
Congratulations go to William Brown (Year 13) for being among the winners of The Royal Geographical Society's (RGS) 2020 Young Geographer of the Year competition. The judges placed him in the Highly Commended category for his work exploring the human and physical geography of his home town Hastings, East Sussex.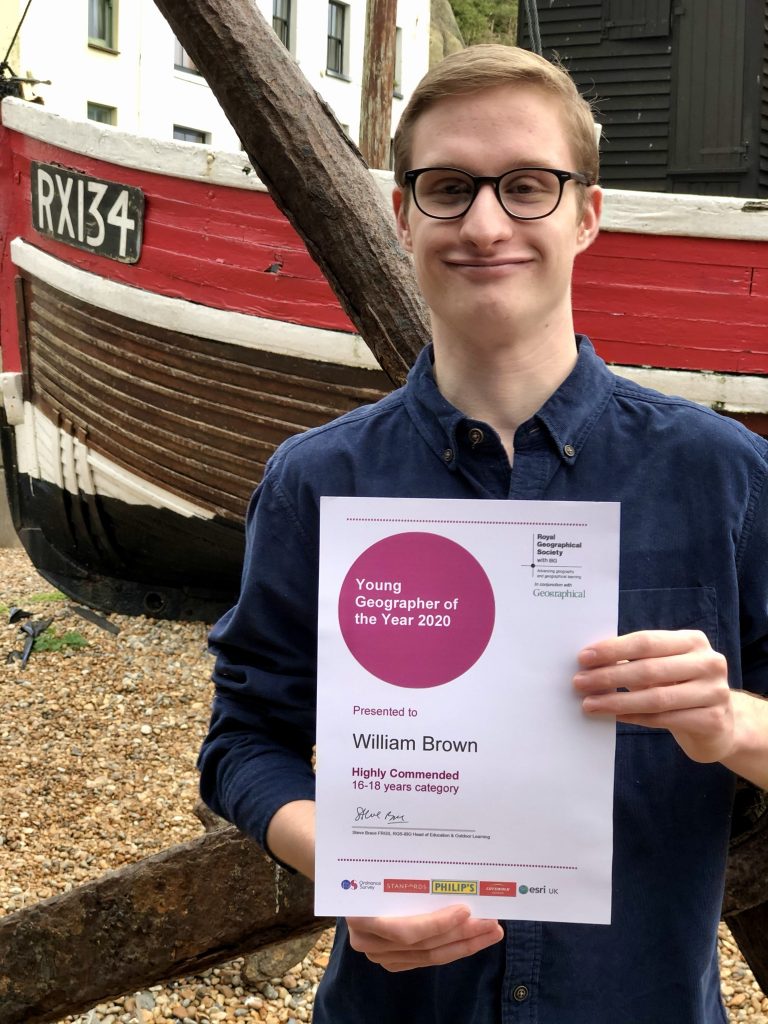 The competition, run each year by the UK's primary authority on geographical matters and titled 'the world beyond my window', directed entrants to explore the human and physical geography of places that exist beyond their window, be it locally or further afield. They wanted to learn how young people's lives are connected to and influenced by these places, be the connections physical, digital or emotional. They also wanted to understand how geographical processes in the physical and human worlds have created these places and what things might be changing them.
The competition had four categories: KS2 (pupils aged 9-11), KS3 (pupils aged 11-14), GCSE (pupils aged 14-16) and A Level (pupils aged 16-18). The Society encouraged schools to run their own semi-finals before entering their top-placed entries into the national competition.
I am delighted to have been awarded a highly commended entry. It was a great opportunity to explore my home town during the lockdown and experiment with carrying out an investigation almost entirely digitally.
The level of work that William produced was exceptional. He conducted recorded video interviews with local residents, took photos of the built environment, used census data to explore the demography of the town, researched everything from government archives to social media to learn the town's contemporary and historical cultural landscapes… the list goes on.
It was not so long ago that we were congratulating Will for making it into Team UK for the RGS's International Geography Olympiad held in Istanbul, Turkey. And it comes as no surprise that he recently received confirmation of an interview with Oxford University, to study Geography.
William's comprehensive Young Geographer of the Year 2020 entry work can be viewed by visiting this page on the RGS website and scrolling to the bottom. In the meantime, here is a taste of some of his work: