Community Award for Eastbourne College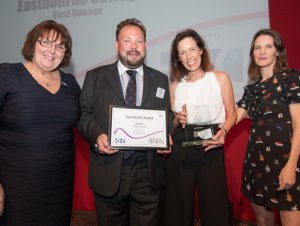 Eastbourne College were honoured to receive the Community Award at the 12th annual Education Business Awards in London. The award recognises the College's work in founding and growing the Eastbourne Schools Partnership (ESP) which provides community, educational and sporting activities. Comprising a blend of 12 local maintained and independent schools, the ESP now accounts for 14,000 children in the surrounding area. Headmaster Tom Lawson and Head of Partnerships Linda Salway were very pleased to receive the award from Susie Dent, lexicographer and long-term occupant of Dictionary Corner on Channel Four's Countdown.
Read more about the Eastbourne Schools Partnership here.
The College also received a special commendation for the Building Award for the recently completed Project 150.