Live Lounge Gig 2019
After the recent success of BBC Music Day, confidence was high on Tuesday night as seven pupils belonging to the Singer Songwriter Club enlightened a packed-out auditorium with fantastic original songs and classic covers during their Live Lounge concert.
With backing support from music staff, including teacher and professional songwriter Tom Williams, songs performed included those by David Bowie, Frank Ocean, Hozier, ABBA and many more. 
Outstanding music provision
College music is split into two tranches, formal curriculum and co-curricular, and the provision is outstanding.
The Music Department is housed in our dedicated multi-million pound Birley Centre and staffed by four full-time musicians with a wide range of interests spanning early music to contemporary electronic composition, plus a studio technician. There are 21 visiting music teachers offering tuition in all orchestral instruments as well as in guitar, organ, percussion, piano and singing. There is also a department secretary who oversees all music lesson timetabling.
The facilities include three classrooms, two of which are equipped with Apple computers running the latest software, a professional recording studio with three separate recording spaces linked by a control room, a drum room, a 180-seat auditorium with a recently refurbished Steinway grand piano, and numerous teaching and practice rooms.
public events
In addition to classroom-based learning, musicians at the College enjoy endless opportunities to perform to their peers and to the public. For example, in the summer term, the College performed live at the famous Eastbourne Bandstand.
Pupils also have the opportunity to learn from the best with a programme of visiting professional artists and masterclasses aimed at developing talent wherever it may surface.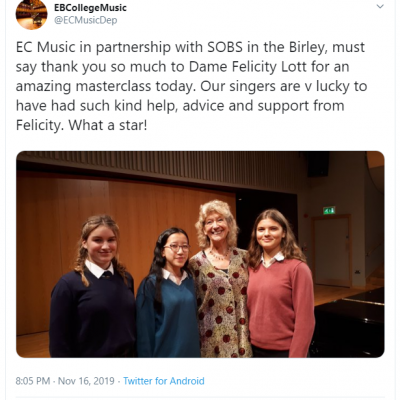 Keep your eyes peeled for more concerts featuring this very talented group of songwriters and musicians later in the year. To find out about our termly Arts programme of live performances, click / tap here!