Solving real world problems using the latest techniques and equipment
Our Design and Technology Centre has gained a national reputation for excellence in the fields of innovative design and manufacture.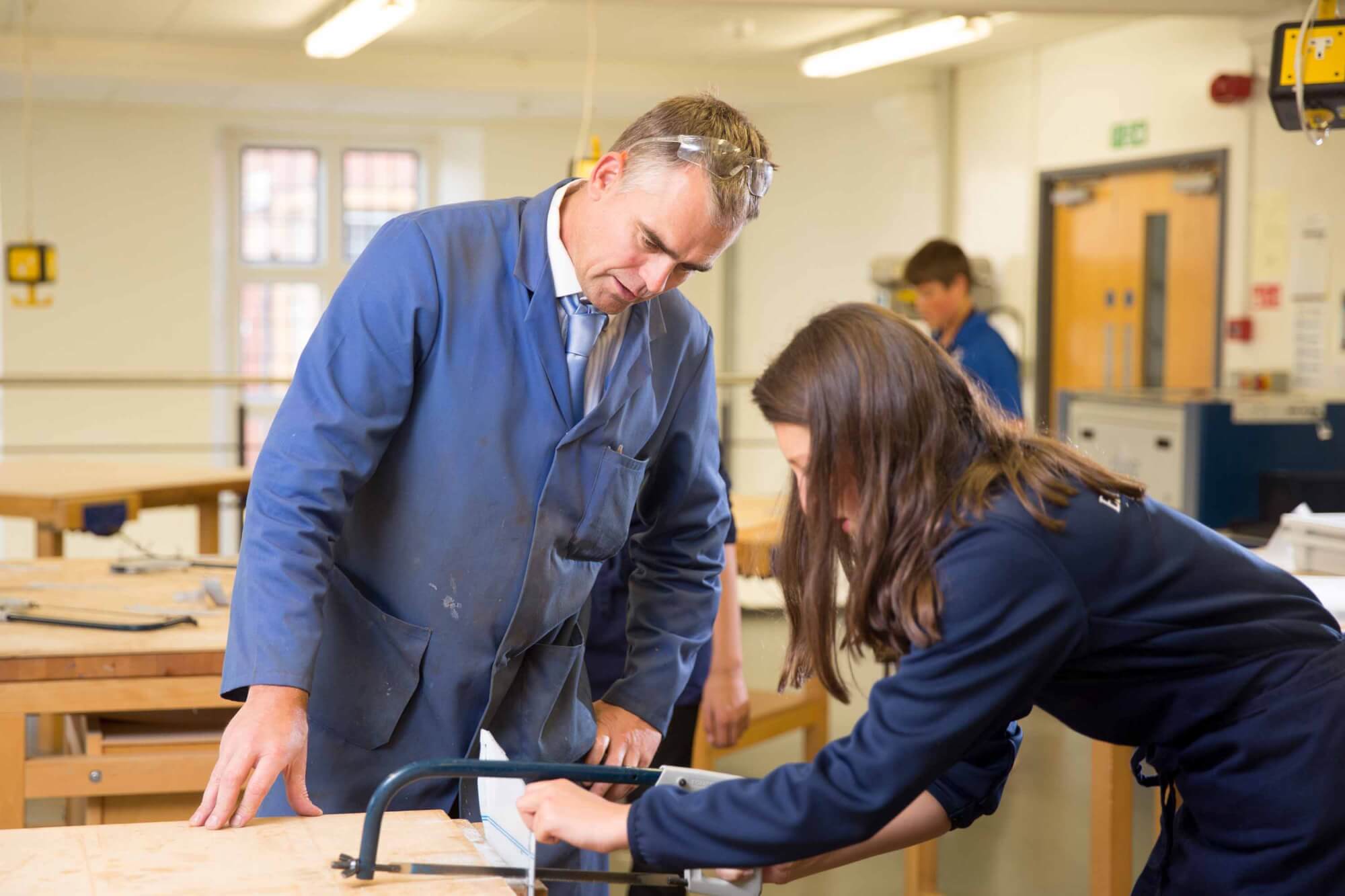 The department maintains consistently high standards. Pupils receive guidance and encouragement from a dedicated team of teachers and a technician, all of whom care passionately about their particular area of expertise and constantly strive to support their pupils' ambitions. 
Design and technology is studied in Year 9 and as an option at GCSE and A-level. It is a thriving course taught in a department with excellent facilities and access to some of the latest equipment including computer-aided design and manufacturing technology.

"There are three responses to a piece of design – yes, no and WOW! Wow is the one to aim for."
Department Overview
The large, very well-equipped centre is situated across three floors. The first two floors contain two well-resourced workshops where pupils can replicate industrial practices using equipment such as a CNC router, two laser-cutters and a heat-treatment area as well as traditional hand and machine tools. On the top floor, there are three studios equipped with computers and interactive whiteboards. A wide selection of industry-specific software is available.
In Year 9, pupils follow a 20-week materials module through which they develop theory, design and making skills in the use of acrylic, metal and wood. They are also introduced to the use of computer-aided design and manufacture.
Pupils are encouraged to view their work in the light of the commercial world and take part in a relevant educational visits during Year 10. In Year 11, talented pupils are invited to join the Arkwright Scholarship Programme. Those who succeed in achieving this prestigious national award receive financial benefits and may go on to win a Nuffield bursary.
At A-level, pupils develop a sound understanding of the design and manufacture of commercial products. This course prepares them for a wide range of higher education courses including engineering, industrial, product and furniture design. The course is equally suitable for pupils not considering a career in design or manufacturing since it provides them with a wide range of transferable skills including problem-solving, team work and high-level IT competencies.
Beyond the Classroom
To enable pupils to achieve their very best results we run a programme of educational visits to major manufacturers and design houses. Senior pupils are expected to take on real-life design challenges and engage with the commercial world using real clients and industrial mentors to broaden their knowledge and hone their skills.
The College offers Arts Awards to give pupils an exciting new creative qualification. Sixth formers can follow a creative path in design and they are supported by an advisor and creative mentor.  
The department also encourages pupils to participate in a variety of competitions. In recent years, significant success has been achieved in many different disciplines.
The Eastbourne College team won the Royal Institute of British Architects schools competition to redesign a parliament for the future and received their award at 10 Downing Street. Four teams entered a competition to redesign Eastbourne's Wish Tower Café with one team coming second.
Pupils regularly win awards at the annual South of England Craftsman of the Year Award where the work of design and technology pupils has been recognised and celebrated over the past 18 years.